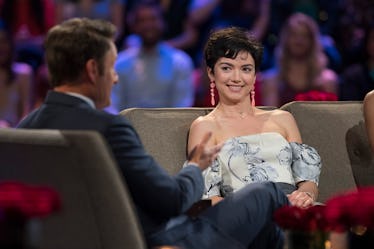 Bekah M. Explained Why She Isn't Going On 'Bachelor In Paradise' & The Reason Is So Sweet
ABC/Paul Hebert
If you were expecting to see a certain charming fan-favorite from Arie's season of The Bachelor on this summer's Bachelor in Paradise, you're out of luck this time. Bekah Martinez has a very good reason for not looking for love under the Mexico sun on the ABC dating spinoff — she's in a relationship! Who is Bekah M.'s boyfriend? The 23-year-old reality TV alum has been dating someone for a few months now and she recently divulged they're "getting serious."
Bekah opened up to PureWow for an interview released on July 16 to discuss her love life and explain why she opted out of more televised dating adventures:
His name is Grayston and at first we decided to take our relationship slow because I didn't know if I was going to go on Paradise or not and I wasn't really sure what I wanted. I wasn't sure if I wanted to miss out on that opportunity. I was kind of like, "I don't want to be dating this guy for two months and then decide not to go on Paradise and have total FOMO and wish that I had done it." But as it got closer to [filming] I just started realizing that it wasn't worth it for me to put myself in that environment where I could possibly jeopardize what I had with Grayston.
Fans of the Bachelor may remember that Bekah's an avid rock climber, and her new beau's profession has a connection to the hobby. He's the founder of Long Beach Rising, a rock-climbing gym "espected to open in early 2019," according to his Instagram bio. He works at the gym where Bekah climbs — that's where they met. Ah, love at first belay! That's pretty much the only rock-climbing term we know aside from "rock" and "climb," so forgive us.
Bekah followers likely noticed her absence from social media last month which was an intentional move on her part. But, no — she was not filming during the break. Did her Insta-vacay fake you out too?
"One thing I do want to clear up, I never went to Mexico at all. My two weeks off of Instagram was just me getting to have a hiatus from social media and also tricking people," she said in an Instagram story on Monday. "Keep them guessing, keep them on their toes."
Audiences will certainly be miss Bekah's witty commentary and endearing free spirit on BIP Season 5. She would have made a great addition to the cast. Although, from the looks of the promo, there appears to be no shortage of drama coming up.
Plus, Bekah doesn't regret not joining the show right now, and she has no plans to enter the re-enter the Bachelor-verse any time soon. She told PureWow:
It was a really good decision for me and it's time for me to branch off in my life past The Bachelor. I don't plan on doing any future shows with the franchise as of right now, but I'm kind of happy about it. I'm so grateful for all of the experiences I've had from the show, but now it's time for me to step aside and create a life of my own that's not centered around The Bachelor world.
For now, if fans want to keep up with the LA nanny, there are always her candid social media snaps to scroll through. Perhaps she'll start sharing more photos of her new man now that the news has officially broke. And if Bachelor Nation is lucky, maybe she'll live-tweet the upcoming season of Paradise.