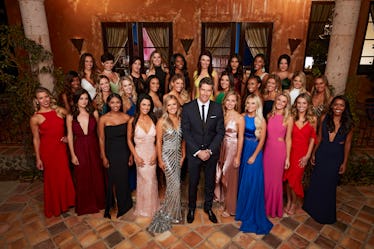 A Surprise Ex Showed Up On 'The Bachelor' & We're Just As Confused As Arie
ABC
You know what really ruins the mood after you've just exchanged "I love yous" with the man of your dreams under the Peruvian moon? Your EX. So, imagine Arie and Becca's surprise when the her old flame showed up to win her back unexpectedly. "I didn't know it ended in a proposal until someone told me, and then I knew I had to do something," her former boyfriend, Ross, explained to the producers. OK, then... So, who is Becca's ex on The Bachelor? He clearly has unfinished business to take care of, and apparently he's not afraid to go on TV and take care of it.
Becca and Arie had a picture-perfect overnight date in Peru — they said "I love you" and looked sublimely happy and gushed about one another in a desert daze. "Nothing can get in the way at all," beamed Becca, glowing in the morning sun. Wait for it... Because she'll probably want to retract that statement as soon as she finds out her ex boyfriend flew all the way to ICA, PERU to address her and Arie. Ross confessed to Arie in a tense confrontation,
Yeah, man. I came all this way. I found out about a week ago that she's on the show. Obviously I know the show ends in a proposal and... for as long as I thought about her, that's my proposal to give her. She's the love of my life and I wanna marry her.
Um, what?!
Who is this person and how did he even get to South America to pull such a ballsy move? Ross revealed that he and Becca had been together for seven years before breaking it off around this time last year. "I would have swam here if I had to," he explained of his devotion, calling Becca his soulmate and the person he was meant to be with despite their breakup. According to Ross, when he discovered Becca was competing on The Bachelor, he knew any proposals that involved someone else getting down on one knee must be stopped. So, he took to the trusty Internet to figure out a way to get to her and — voila! — now he's in Peru sabotaging her new relationship. Way to make Bachelor Nation bite their nails, Ross.
"You live your life in a movie and you think it's gonna work out like The Notebook," Becca responded to Ross when he told her his feelings. She's right. Life is not a movie. In this case, it's a reality television show, and this is not the way it's supposed to go down. Becca proceeded to let Ross down not-so-easy, but that didn't mean Arie was pleased with the situation.
Arie's already deciding between three potential wives. Of course, a surprise cameo from a determined ex does not make this process any easier. "I just feel like it couldn't come at a worse time," a "shocked" and "very mad" Arie noted. Ya think?!
But Becca reassured Arie that what's past is in the past and this Ross character, despite their long history, is nothing to worry about. "I felt so sick to my stomach because I didn't want Arie to question where I'm at with him," Becca said prior to the rose ceremony.
Ross may have rocked the catamaran in Peru, but his awkward disruption wasn't enough to end Becca's romantic journey. She and Lauren ended up getting roses over quirky fan-fave, Kendall.
And then there were two. Two ladies that Arie apparently loves. Time — well, the dramatic finale event to come — will tell their fates. In fact, next Monday's conclusion is supposed to be so extreme, there's a bonus episode on Tuesday as well.