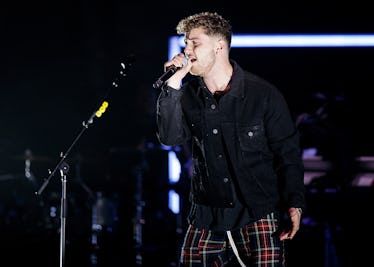 Here's Everything You Need To Know About Bazzi, The VMA Best New Artist Nominee
Andrew Chin/Getty Images Entertainment/Getty Images
You may not be super familiar with breakout star Bazzi, but you've probably heard (i.e. listened on repeat) to his smash hits, "Mine" and "Beautiful." And while the 20-year-old Michigan native may be a newcomer on the pop scene, with a fanbase that includes Taylor Swift and Camila Cabello, his rising success is hardly a surprise. I'd say that pair knows a thing or two about good music. But other than his impressive chart toppers and recent VMA nomination for Best New Artist, we still don't know that much about him. So, who is Bazzi?
The Cosmic crooner got his start in 2013 on the popular, and now defunct, short form video app Vine, garnering nearly 1.5 million followers with his six-second cover songs. At the time, he still went by the name Andrew Bazzi and often performed alongside friend and fellow Vine star Rajivv Dhall. He dropped his debut single, "Bring Me Home," in 2015 and became the first artist to release a featured track on the platform.
After his initial internet success, Bazzi moved to Los Angeles to finish high school and give the singing thing a real try. "I knew I had to be there," he said in an interview with Billboard. "I always told myself growing up I wasn't going to finish high school in Michigan just because I'd be too busy with something. I was like 'F*ck it, let's make the move. Let's just give this thing a go!'"
Despite finding popularity online and moving his covers to YouTube after Vine's demise, Bazzi admittedly struggled upon his L.A. arrival. He told the outlet:
I hadn't met the right people yet, but I knew I was in the right place. I know I was doing everything correct. That's the thing: I've never had fear in my heart about it. I've never approached this from a negative perspective like, 'Man, this isn't working.' Even when I was in the worst positions and there was no light at the end of the tunnel music career-wise I still was feeling it and I still was believing.
He released "Alone" under the new moniker, Bazzi, in 2015, and admits it was the first time he really found his identity as an artist. Two years later, "Mine" dropped, and things took off. The hit became a viral meme involving the heart Snapchat filter, and it earned Bazzi the kind of recognition he needed to take things up a notch. "To finally have people receive and hear what I'm saying is one of the most gratifying feelings an artist can ever have," he told Billboard.
The track has made a steady climb on the Hot 100, landing at No. 1 in July 2018, and racking up over 70 million streams over its lifespan. In February 2018, the song appeared on Taylor Swift's "Songs Taylor Loves" playlist for Spotify. "woah. hi @taylorswift13," Bazzi tweeted.
The singer also caught the attention of Swift's Reputation opener, Camila Cabello. According to BBC, the "Havana" songstress revealed, "A male artist I would like to collaborate with is Bazzi. I just started listening to his new music and I'm a fan." After joining Cabello for select dates on her own tour Never Be The Same, the pair teamed up for a remix of Bazzi's "Beautiful." A song that was originally an accident. He told MTV:
'Beautiful' is a freestyle, actually. I actually made 'Beautiful' being like, 'I just want something to post on Instagram, like, I don't care, I'm just gonna throw something up today.' I went to the studio and I freestyled [it] in like an hour and a half, and I threw it up and people were like, 'This song's gonna change your life.'
Nominated alongside fellow new kids Lil Pump and Chloe X Halle, Bazzi seems pretty honored to just be included in the "Best New Artist" category. "Damn... nominated for best new artist this year at the VMAs," he wrote on Instagram, alongside a crying emoji. "Thank u @mtv - u can vote at VMA.mtv.com xxx."
Win or lose, Bazzi's sticking around. And in the midst of his success, it's definitely a "beautiful, beautiful life right now."