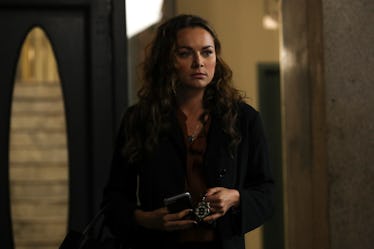 Here's Everything 'A Million Little Things' Fans Know About The Mysterious Barbara Morgan
ABC/Jack Rowand
As A Million Little Things began to delve more into the personal issues of Jon's family and friends, his assistant Ashley fell into the background after a few episodes of her nervously keeping secrets about Jon from Delilah and the guys. In Oct. 31's "Unexpected," the mysterious secretary returned, still trying to figure out who one of Jon's primary beneficiaries was. Who is Barbara Morgan on A Million Little Things? The latest episode spilled some more about the unknown woman, but viewers are still searching for answers.
This post contains spoilers for the Oct. 31 episode of A Million Little Things. When we last saw Ashley (Christina Ochoa), she was working in Jon's home office and reading his suicide note to Delilah (Stephanie Szostak). In the letter, Jon directed his wife to an envelope behind a painting in the office, which Ashley retrieved. The secret stash was an envelope labeled "Rutledge," matching the computer files Ashley deleted at the end of the pilot episode. Inside, she found a life insurance form listing Eddie, Gary, Rome, and Barbara Morgan as Jon's primary beneficiaries. Rather than coming clean to Delilah, Ashley began searching for Barbara, who wasn't listed in Jon's contacts.
In this week's episode, we learned that Ashley has still been using Jon's home office rather than going to their workplace. Stumped by her case, she falsely told Delilah that a Barbara Morgan called, trying to weasel out any info the older woman might have. However, Delilah was confused, claiming not to know who she was. If she doesn't know Barbara, will Ashley ask the guys for any possible dirt next?
After Delilah mentioned that the bank denied the loan for her and Regina's restaurant launch, she became nauseous, prompting Ashley to comfort her. You would think that hunching over the toilet with her boss's pregnant widow would convince Ashley to finally share the blue envelope, but nope. Although viewers were initially tricked into thinking that Ashley revealed the envelope and Delilah screamed at her for hiding it, the scene turned out to be Ashley's fantasy of what could happen if she confessed. The secretary left the Dixon home without actually discussing any of her amateur detective work.
Later in the episode, Ashley also dealt with a bank call suggesting that Jon had a loan on another property, which she insisted was inaccurate. What with these banking issues and the reveal of Ashley's own financial trouble, was Barbara Morgan a business partner attempting to help Jon out of a slump? Is Ashley indebted to him because he tried to assist her financially? Have we seen Barbara before without even realizing it?
A fan theory does suggest that Barbara was a mourner at the funeral played by UnREAL's Constance Zimmer, and Hidden Remote even reported that the unnamed character would soon return to the show with a full backstory. If Zimmer is Barbara Morgan, then the character's ties to the group are even more obscure — neither the men nor Delilah seemed to know her in her fleeting funeral appearance. How much was Jon really hiding from his wife and best friends when he was alive? Here's hoping we get some answers about his relationships with Barbara and Ashley soon.
Season 1 of A Million Little Things continues on Wednesday, Nov. 7, at 10 p.m. ET on ABC.
If you or someone you know are experiencing suicidal thoughts, call 911, or call the National Suicide Prevention Hotline at 1-800-273-8255.