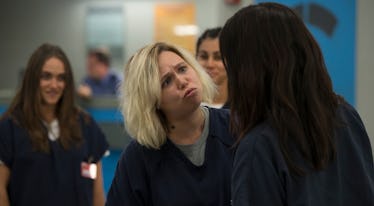 The 'OITNB' Inmates Face A New Head Honcho In Max, Here's Her Story
Netflix
The new season of Orange Is the New Black has a brand new setting for the series: Instead of Litchfield Penitentiary, most of the main inmates now find themselves trying to navigate the even more dangerous maximum security prison. And of course, a scary new prison also means scary new prisoners. One of the very first new face that fans will meet in Season 6 is Madison Murphy, a joke-loving Bostonian who goes by the moderately cringe-y nickname Badison. So, who is Badison in Orange Is the New Black Season 6, and what exactly does she have in store for her new prison-mates? Let's get into it.
Spoiler alert: This post will discuss plot details from the first three episodes of Orange Is the New Black Season 6. Badison first appears as Red's new cellmate at the very beginning of Orange Is the New Black Season 6. Red, along with Piper, Suzanne, Nicky, Cindy, Taystee, Daya, Gloria, Blanca, Frieda, and Maria, are all being held in Administrative Segregation (referred to simply as Ad Seg) after being transferred to a nearby maximum security facility following the Season 5 finale. In case you need a reminder, those inmates (and the suspiciously absent Alex Vause) were found hiding in a secret underground bunker when a riot gear-equipped Community Emergency Response Team stormed Litchfield to put an end to the prison riot. Those final moments also included CO Desi Piscatella being accidentally shot and killed by an untrained CERT officer after escaping the bunker. In a not-all-that-surprising twist, the inmates held in Ad Seg are being blamed and investigated for that murder in addition to inciting the Litchfield riot.
OK, got all that? Now we can talk about how Badison fits into all this. Badison is ushered into Red's cell shortly after Red arrives in Ad Seg. She was apparently being treated in the medical center after a fight, and sports a cast on her arm. Badison wastes no time in making her unsettling presence known, even seeming to frighten Red about her new home in max. She calls Red and all the new arrivals "cookies," because the inmates who transfer to max from Litchfield are known to crumble after a few days. Still, despite all her tough talk, Badison actually seems to have a pretty light-hearted personality, and is quick to crack jokes.
Badison's other main interaction in the first few episodes is with Piper. When we first see Piper in the new season, she is understandably freaking out over the fact that everyone from the bunker is in Ad Seg, except Alex is nowhere to be found. The two had just gotten engaged before the CERT team bum-rushed the bunker with their guns a-blazing, and Alex's disappearance could very well mean that she was killed in the action. Piper makes it her mission to try to find Alex by any means necessary, and asks Badison if she may have seen Alex in the medical center. Rather than just give Piper some intel, Badison decides to push Piper to the ground and break her teeth, which Badison considers a favor since now Piper can now check out medical herself.
This introduction to Badison clearly shows that although she has a light-hearted personality, she also has no qualms roughing her fellow inmates up. As the new season moves forward, viewers will get a better idea why Badison is like that, and will also see her making the life of one particular inmate a living hell.