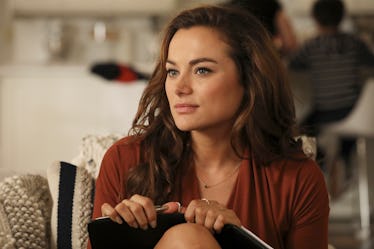 Here's Everything 'A Million Little Things' Fans Know About Ashley So Far
ABC/Jack Rowand
TV shows don't exactly like to make characters' secretaries or assistants very lovable to fans. A Million Little Things has followed this trope by immediately putting Jon's assistant Ashley in a precarious position in its pilot episode. After witnessing Jon's suicide, Ashley hid an envelope presumingly containing his last letter to his wife, fueling fan speculation about the true nature of her connection to Jon. Jon's family and friends might not suspect anything yet, but who is Ashley on A Million Little Things and what is she hiding?
Played by Christina Ochoa, Ashley's decision to hide Jon's envelope wasn't her only shady choice in the show's first episode. In the aftermath of Jon's funeral, his wife Delilah prodded her for any information about why Jon would have killed himself, but Ashley avoided the question. Even Delilah knew that the Jon and Ashley were close, but Ashley seemingly tried to play down their relationship. She even told Rome, Gary, and Eddie that she didn't understand why people thought they were so close, but then proceeded to enter Jon's phone passcode for the guys. At the end of the episode, Ashley was then seen deleting computer files about a Rutledge case, suggesting that Jon had a risky business deal in the works.
The reason behind her cagey behavior was one of the biggest questions fan took away from the show's premiere. Viewers questioned if she was having an affair with Jon or loved him unrequitedly, and one fan even pointed out that the show opened with Jon appearing to be redressing at work while on a business call. Could Jon's guilt about possibly having an affair really be the driving force behind his suicide?
Seeing as the pilot also revealed that Delilah and Eddie were having an affair, the double whammy of both Dixon parents cheating on each other is definitely overdramatic. Clearly the Jack Pearson of the show, Jon also didn't come across as an obvious philanderer, but he appears to have trusted Ashley with something that he doesn't want Delilah to know.
A Million Little Things creator DJ Nash hinted about Ashley's role throughout the season in an interview with TV Guide, saying:
I think in terms of Ashley, there's stuff going on about Jon that the rest of the group of friends wasn't aware of, and we're going to learn more about that as the season progresses, in terms of what happens... I think she genuinely loves Jon and I think she believes that all of the things she's doing are honoring Jon.
Nash's tease definitely leans more toward the idea that Ashley is trying to protect Jon rather than herself. From what we know about Jon, he's wise and usually upfront with his friends and family, but perhaps the deal related to Ashley's deleted files was his breaking point. Maybe he confessed about its troubles in his note to Delilah, but perhaps Ashley understood the consequences of such a secret more than Jon did. She might have harbored some romantic feelings for him, but Ashley could actually be the saving grace for Jon's reputation as the season progresses. We'll have to wait and see if the guys and Delilah catch on to how she's already interfered in Jon's business.
Season 1 of A Million Little Things continues on Wednesday, Oct. 3, at 10 p.m. ET on ABC.
If you or someone you know are experiencing suicidal thoughts, call 911, or call the National Suicide Prevention Hotline at 1-800-273-8255.