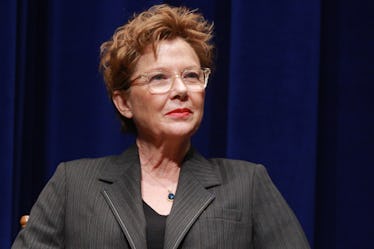 A New 'Captain Marvel' Role Was Just Cast & The Character Is A Major Mystery
Rich Fury/Getty Images Entertainment/Getty Images
If Marvel's plan is to best Wonder Woman at the box office next year with Captain Marvel, it's started off on the right foot. They have a nice long lead time, allowing the box office receipts to build by debuting it at the beginning of March. They've made it a film which is integral to understanding the post-credits sequence at the end of Avengers: Infinity War, and perhaps giving fans a hint of how the Marvel-verse will be saved. Now there's an A-list level casting announcement of Annette Bening. But who is Annette Bening playing in Captain Marvel?
By introducing Carol Danvers, aka Captain Marvel, at the end of Avengers: Infinity War like she's someone who Nick Fury has had in his back pocket the entire time, it adds an air of mystery to the character. Especially since the standalone movie is set in the 1990s, with a younger Nick Fury as well as a de-aged Agent Phil Coulson of S.H.I.E.L.D.
If Coulson and Fury have known about Danvers the whole time, where is she? Why wasn't she invited to this Avengers party? Wouldn't she have been at least a little useful when Ultron was lifting entire countries into the air?
The hope is Marvel will answer these, and other pressing questions when the Captain Marvel movie arrives next March. But it looks like this may be a film which is much more "classic origin story" than fans might realize.
According to The Hollywood Reporter, which broke the casting news, four-time Academy Award nominee Annette Bening's role is being kept under wraps, "but 'scientist' is said to be in her job description." Meanwhile, Variety is speculating Bening has most likely been cast as Danver's mom.
If so this is a major upgrade of the character's backstory. In the comics, Marie Danvers barely registers, other than a vague presence in the background. Having her mother be some sort of scientist who is experimenting with Kree technology while her daughter is growing up would make for a great role model for the future high-powered superhero.
But it's the fact Bening is doing the film at all that's really turning heads. As The Hollywood Reporter puts it:
Bening eschews most studio movies, let alone those with caped crusaders and masked marvels. She most recently starred in the period drama Film Stars Don't Die in Liverpool and toplines The Seagull, an adaptation of the Anton Chekhov play that also counts Saoirse Ronan and Elisabeth Moss in its cast, which is set to bow Friday.
What is it about this role which attracted Bening to it so much she would grace it with her presence? It's obviously a role with some substance. It's possible Variety has the wrong end of the stick altogether with this assumption that just because they're casting an older woman, it must be someone's mom; it could be the film's major villain instead.
But as fans recently saw in Jessica Jones Season 2 on Netflix, "scientist," "mom," and "villain" are not necessarily mutually exclusive roles. In fact, it was the combination of several facets creating a complex female figure that drew Tony-and Olivier-winner actress Janet McTeer into a comic book TV show. Perhaps Captain Marvel directors Anna Boden and Ryan Fleck offered her something which was simply too tempting to pass up.
Bening joins a Captain Marvel line up of Brie Larson in the title role, along with Jude Law, Ben Mendelsohn, and Gemma Chan. Samuel L. Jackson and Clark Gregg reprise their roles from Marvel's 2012 film The Avengers as Nick Fury and Agent Coulson respectively, while Djimon Hounsou and Lee Pace reprise their roles from Marvel's 2014 film Guardians of the Galaxy as Kree characters Ronan the Accuser and Korath the Pursuer.
Captain Marvel arrives in theaters March 6, 2019.