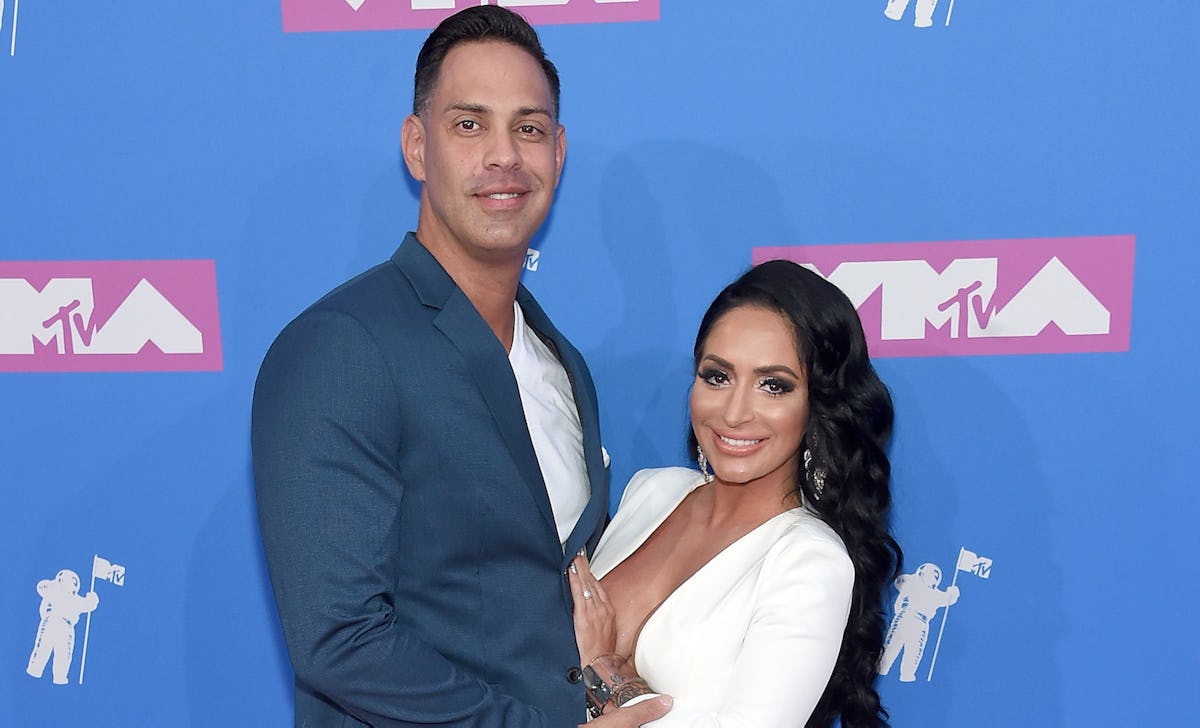 Here's What 'Jersey Shore' Fans Should Know About Angelina's Fiancé
Jamie McCarthy/Getty Images
Angelina may have made some amends with her Jersey Shore cast mates, but she is still stirring up all the drama in the house on Jersey Shore Family Vacation. That was especially evident on Thursday night's latest episode of the reunion series, which involved a massive, arguably sexual-tension-filled fight between Angelina and Vinny. She also opened up about the not-so-pretty side of her engagement, which probably has viewers wondering who is Angelina's fiancé. So, let's go over everything you need to know about Angelina's relationship with her fiancé, Chris Larangeira.
Angelina Pivarnick and Chris Larangeira got engaged at the beginning of this year. Angelina told Us Weekly that Larangeira proposed to her after a romantic dinner — when they returned to his house, Larangeira had lain out a trail of rose petals leading to the bedroom, where he popped the question. Angelina and Chris had known one another for 14 years prior to getting engaged, and Angelina's engagement to Chris marks her third time being engaged. She was previously affianced to David Kovacs in 2011 and Louie Gero in 2016. She told Us Weekly that she believed God finally brought her and Chris together at the right time.
The couple sounds perfect — a rose-filled proposal, a 14-year history with one another — but Angelina revealed that it is not all rose petals and romantic dinners in her relationship with Chris. On the latest episode of Jersey Shore Family Vacation, Angelina told JWoww, Snooki, and Deena that she threw her engagement ring off after a big fight with Chris. According to Angelina, Chris went totally M.I.A. on her for a full day and night, which caused the fight. She went on to say that she and Chris fight constantly, and that he has an anger problem that nobody else really sees:
I do fight with Chris a lot, I gotta be honest with you, over stupid s—. He gets very jealous over, like, little things, and he has an anger problem that nobody's really seen yet. Me and Chris could never sit down at a dinner table without some form of fighting. I mean, it's just normal in our household.
That does not sound so great, but the constant fighting does not seem to be bringing down Angelina and Chris' relationship. The two are still on track to tie the knot, with Angelina even posting a cute photo of herself and Chris earlier this week, with the caption "Bae."
Although Angelina seems to be going strong with Chris still, the rest of her house mates are convinced that she is going to hook up with Vinny again at some point. The latest episode of Jersey Shore Family Vacation focused largely on Vinny and Angelina fighting with one another, but the rest of the cast saw the insults and condiment-throwing more as flirting than actual anger. And the promo for the rest of the season teased a lot more tension between Vinny and Angelina is coming up... so who knows what could happen?