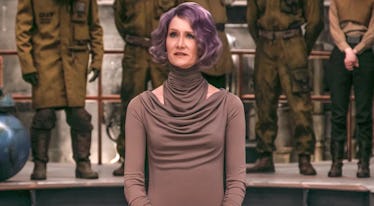 Here's Everything You Need To Know About Lara Dern's 'Star Wars' Character
Walt Disney Studios
Star Wars fans are going to be reunited with a lot of familiar faces in The Last Jedi. Not only will we get to see The Force Awakens stars Rey, Finn, Poe Dameron, and Kylo Ren again, but also old favorites like Luke Skywalker and Leia Organa. But there's also a mysterious new character to stir things up in The Last Jedi: a lavender-haired enigma named Amilyn Holdo played by Laura Dern. We may not have seen Holdo in action yet, but surprisingly, there's already a lot about her we do know. Get the low-down on Amilyn Holdo in Star Wars: The Last Jedi right here.
Although Amilyn Holdo is totally new to the Star Wars cinematic universe in The Last Jedi, she has already been introduced to the franchise very recently in a couple of Star Wars novels that came out in September. Because of these books, we can go into The Last Jedi with some info on the new character. Most of Holdo's backstory is entwined with Leia Organa's (which makes sense because the two books that mention her are called Leia, Princess of Alderaan and A Leader Named Leia). Holdo and Leia first met one another as students in the Apprentice Legislature, which was a program for youth in politics. They spent much of their time in the program together, and when Holdo learned that Leia was involved in the rebellion against the Empire, she agreed to help her friend. Now in the new movie, Holdo is back to aid Leia in leading the Resistance forces.
In terms of personality, some Star Wars fans have been referring to Holdo as the Luna Lovegood of the franchise, comparing her to the quirky Harry Potter character. Holdo is known to speak in confusing metaphors and riddles, and often gets distracted in the midst of speaking. Though she was a close friend to Leia during their youth, Organa did admit to being sometimes irritated by Holdo's eccentric mannerisms. Her lavender-colored hair is a carryover from her youth. Apparently, Holdo was not the biggest fan of her homeworld's peaceful but restrictive customs, and would dye her hair strange colors, wear vibrant clothes, and go on dangerous adventures to rebel against them.
All that we really know about Amilyn Holdo's involvement in The Last Jedi right now is that she will be joining up with the Resistance as a Vice Admiral, probably working closely alongside her childhood friend Leia Organa. Some fans think that Holdo looks like she might actually be an antagonistic force in The Last Jedi, even though she is friends with Leia. There are a few predictions that Holdo may butt heads with ace pilot Poe Dameron once she rises to power in the Resistance. It certainly does seem clear that her eccentric style of leadership may rub people the wrong way, so expect a bit of Resistance in-fighting surrounding her part in the movie.
The other question that Amilyn Holdo's introduction raises is what will become of Leia. With the Resistance forces greatly weakened after the events of The Force Awakens, it makes sense for Leia to bring in some extra help to get the team back on track, but will Holdo's new role mean less of a leadership position for Leia? Or will the two women be working closely together to lead the Resistance? Sadly, we know that Leia will not appear in the next Star Wars film (R.I.P. Carrie Fisher), so could The Last Jedi be setting up Amilyn Holdo as the new leader moving forward? There are so many questions we need answered!
Star Wars: The Last Jedi will premiere on Dec. 15.