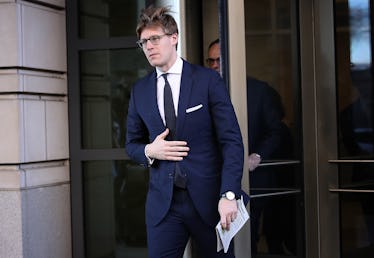 This Is The First Person Sentenced To Jail As Part Of The Russia Investigation
Win McNamee/Getty Images News/Getty Images
On Tuesday, April 3, Alex van der Zwaan was sentenced to 30 days in prison by a federal judge, becoming the first person to be sentenced as a result of the Russia investigation led by former FBI Director Robert Mueller, the special counsel. But while Mueller's name has become well-known over the past year, the defendant at Tuesday's sentencing is not. So, just who is Alex van der Zwaan?
Van der Zwaan is a 33-year-old, London-based lawyer who is a Dutch citizen. He is also the son-in-law of a prominent Russia-based banker, according to The Washington Post. In February, van der Zwaan pleaded guilty to lying to the FBI, which had been questioning the lawyer as part of the Mueller's investigation. More specifically, van der Zwaan admitted guilt for lying about his contacts with Rick Gates, a former official of President Donald Trump's campaign. In February, Gates also plead guilty to lying to the FBI, in addition to admitting financial fraud, according to The New York Times.
Mueller's indictment against van der Zwaan reads, "the defendant, Alex Van der Zwaan did willfully and knowingly make materially false, fictitious, and fraudulent statements and representations ... in the course of answering questions concerning his work as an attorney employed by a law firm engaged in 2012 by the Ukraine Ministry of Justice to prepare a report on the trial of Yulia Tymoshenko."
The indictment then clarifies that van der Zwaan allegedly lied about last speaking to Gates in August 2016, despite the investigators finding that he last spoke to Gates in September 2016. The indictment also says that van der Zwaan allegedly deleted emails between himself and an unnamed individual, despite the fact that the special counsel's office requested to review the messages.
As part of van der Zwaan's guilty plea, the 33-year-old was recommended a sentence between 0 to 6 months, The Washington Post reports. On Tuesday, that sentence turned out to be 30 days, plus a $20,000 fine and two months of supervised release.
According to CNN's Marshall Cohen, Alex Van der Zwaan is one of 22 people and entities charged as part of Mueller's investigation into potential ties been the Trump campaign and Russian efforts to interfere in U.S. elections.
Among those 22 people are Paul Manafort, the former head of Trump's campaign, and Michael Flynn, the retired army general who became Trump's first national security advisor after Trump's inauguration.
Like van der Zwaan, Flynn pleaded guilty to lying to the FBI about conversations he had with a Russian ambassador. After his plea, Flynn released a statement saying his admission of guilt was made in the best interest of those close to him. The statement reads, "My guilty plea and agreement to cooperate with the Special Counsel's Office reflect a decision I made in the best interests of my family and of our country. I accept full responsibility for my actions."
Meanwhile, Manafort has pleaded not guilty against all chargers brought against him, which includes counts of fraud and conspiracy.
The news of Mueller's first sentence comes just as the special counsel's office released a previously undisclosed memo that Mueller's decision to investigate Manafort was sanctioned by Rod Rosenstein, the Trump-appointed Deputy Attorney General. Rosenstein oversees the work of Mueller because Attorney General Jeff Sessions recused himself from the investigation.
Long story short? Robert Mueller has a growing list of targets and his work is supported by the Department of Justice. And even though none of the developments of the case directly involve President Trump, the investigation looks like it's still a long way from being over.