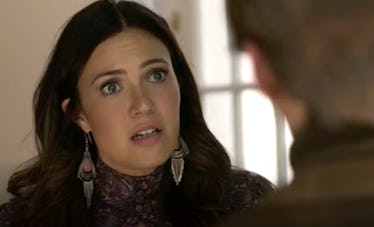 That Mystery Man On The 'This Is Us' Season 3 Premiere Is "Definitely Not A Stranger"
NBC
Anyone who's even caught just one episode of This Is Us is likely aware that Rebecca (Mandy Moore) and Jack (Milo Ventimiglia) end up getting married. Their love story is one of the most magical connections to grace the small screen in years and the adorable pair has the support of thousands of loyal fans. But as the Season 3 premiere revealed, the future parents of The Big Three had some obstacles to face on their journey to matrimony. Who is Alan on This Is Us? The mystery man who shockingly planted a kiss on Rebecca during Tuesday, Sept. 25's dramatic episode might just be from her past.
I'll admit, "past" might be a confusing term in the This Is Us-verse. The flashback that provided insight into Jack and Rebecca's first outing together was technically in the past, as it took place in the '70s. Twenty-somethings Rebecca and Jack were shown going on an awkward carnival date that concluded with Jack expressing his feelings for her. She showed how she felt with a kiss and all seemed right in the world. Not too fast, lovebirds. The episode introduced another Rebecca suitor with flowers in tow, who surprised her at her doorstep with a smooch as a disappointed Jack looked on. Just who is this dude and why is he messing with America's favorite TV couple?!
According to Mandy Moore's comments to ET, the mustachioed man in the plaid blazer is probably not her present flame. Rebecca wouldn't two-time her man! The actress explained:
I think Rebecca was clearly surprised when she opened the door. I don't think she was expecting him, so that hints to me that it's not a current beau. And I don't think she's the type of girl who would go out on a date with another gentleman if she was currently with somebody. They seem to know each other very well if he felt obliged to step in front for a kiss and he brought flowers, so we'll see!
Alan is played by actor Hunter Parrish, who you may know from Weeds, Good Girls Revolt, or Quantico. Parrish's involvement in the show was kept under wraps — the show even went so far as to remove his keep his name out of the opening credits so viewers wouldn't start to question who he could be playing.
It sounds like the season premiere won't be the last audiences see of Alan, who "is definitely not a stranger," according to co-showrunner Isaac Aptaker.
"They're such an incredible couple and they have this incredible chemistry that you could assume that it was smooth sailing from moment one," co-showrunner Elizabeth Berger added, speaking about Jack and Rebecca. "That's not usually the way life goes. We wanted to share that these two had some bumps to overcome as so many people do before ultimately ending up together."
This Is Us: Showing life's hardships since 2016. Despite the hurdles, it's hard to imagine the drama any other way.
This Is Us airs Tuesday nights on NBC.