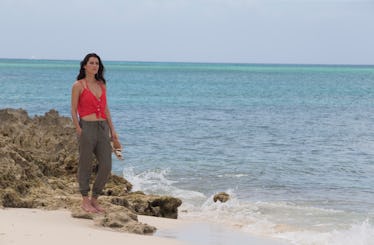 Here's Who Didn't Get A Rose After Hometown Dates On 'The Bachelorette'
ABC
One day, we were still trying to come up with clever nicknames to tell Becca Kufrin's Bachelorette guys apart, and the next, we're watching the remaining four go above and beyond to impress Becca with a visit to their hometowns. But inevitably, meeting someone's family always clarifies to the Bachelorette which guy isn't right for her, and such was the case on this episode of The Bachelorette. So, who goes home on The Bachelorette Week 8?
After unsuccessfully trying to charm his cautious father and then receiving a bombshell of a confession from Tia, Becca ultimately eliminated Colton Underwood from the competition. The two shared an initially tense moment last week when Colton told her that he was a virgin and Becca let her initial shock show. She even left the room to seemingly take a minute to process, but Becca later tweeted that she left to go to the bathroom and Colton confirmed her message, so things between the pair before going into hometowns probably weren't as shaky as viewers were made to expect. That's the magic of reality TV, folks!
Still, nothing says "awkward" more than a private conversation with your pseudo-boyfriend's dad right after said boyfriend told you that he didn't even think his dad knew about his virginity. Usually, these hometown visits focus on cynical parents, but at the end of the night, the lead still manages to hug the not-so-potential in-laws and work a smile out of them. After Colton's date, it seemed that while his parents liked Becca, his dad wasn't onboard with the idea of his son with little relationship experience possibly proposing so quickly, which was also a major area of concern for Becca.
Colton's dad was also concerned about how Becca's previous engagement and her knowledge of Colton's past with Tia had affected her relationship with him. That's one parenting award for you, Underwoods!
The streak of Colton being forever linked to Tia continued when his dad revealed that he knew about the brief relationship, but that wasn't the end of awkward cringing for fans. Another major faux pas against Colton occurred when Tia Booth, the Bachelorette that never was, disrupted Becca's peaceful hangout with some of her favorite Bachelor ladies. When she found out Colton was still in the competition, Tia revealed to Becca that she still had feelings for Colton, and the thought of him going further in the competition with Becca sickened her. Girl, where's your sense of timing?
In the end, Becca's conversation with Tia weighed so heavily on her that it was only right to send Colton home. When the two spoke privately post-elimination, Becca revealed that his dad played a major part in her decision, having asked her to let him go if he wasn't the one. Colton was understandably crushed because of how serious the relationship felt to him, and that's basically when the conversation ended. As Colton drove away in a limo, Becca confessed to the camera that eliminating him was difficult despite knowing he wasn't her future husband.
We get it, girl. He has a really nice face.
With only three men left in the competition, things are about to get even more real. Jason, Blake, and Garrett will have fantasy suite dates with Becca, and by this time next week, we may finally know who Becca's final two men are. Meanwhile, I'm keeping track of how soon it will be before Colton is announced as a Bachelor in Paradise cast member. Broken hearts don't last that long in Bachelor Nation!
The Bachelorette returns on Monday, July 23, at 8 p.m. ET on ABC.