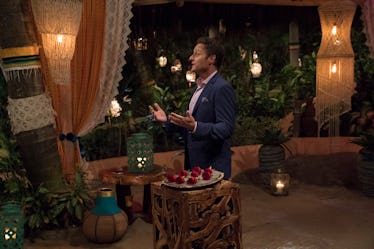 These 4 Guys Went Home On 'Bachelor In Paradise' In The Most Dramatic Twist Ever
ABC/Paul Hebert
If audiences and cast members have learned anything from Bachelor in Paradise, it's that things can change drastically in a matter of seconds. Monday, Aug. 27's episode saw the departure of both wrestler Kenny and military vet Jubilee on their own terms, but they aren't the only ones saying goodbye this week. Who goes home on Bachelor In Paradise episode 7? The romantic stakes are getting higher, couples are getting closer, and four men made their dramatic exits.
Bachelor in Paradise hasn't exactly been smooth sailing for its Season 5 participants. Sure — they get to eat chips and guac on the beach while lounging on oversized beds with a seemingly never-ending supply of alcohol at their convenient disposal... but they also have to deal with awkward dating situations, love triangles, and the lingering possibility that a plane ride out of Mexico is just around the corner. Is it all worth it? For some, perhaps — Astrid and Kevin are closer than ever, Tia and Colton's saga developed into a comfortable courtship, Angela and Eric are "all in," Annaliese and Kamil are on their way, Jenna and Jordan are making things work despite external odds (ahem, Benoit), and Chris and Krystal are "basically two aliens from a different planet, but they're from the same planet." (Astrid's words, not ours.)
Sadly some relationships are just not as strong as others, which is why David, Benoit, and Connor did not receive roses. Chelsea, the deciding flower-giver since she isn't fully attached to anyone at the moment, saved John after struggling with the decision.
"I'm starting to get in my head a bit because I just don't want to send the wrong person home," Chelsea admitted prior to the rose ceremony. She ended up choosing John despite having some doubts, though she felt more confident in her decision the next day because she felt "he had great potential."
John may have gotten another chance, but Benoit left Mexico sobbing following his elimination. The French Canadian from Winter Games had a rough week — Jenna cut things short with him for Jordan and now he's leaving crying in a limo. His goodbye was hard to watch, but it was nothing compared to what went down with Leo.
The lead-up to the inevitable elimination ceremony was a tense one. Following the mega-fight that erupted courtesy of Leo, everything was topsy-turvy and initial perceptions evolved into seeing true colors emerge. After Kevin let it slip to Kendall that Leo kissed Chelsea, Leo pretty much lost it. Kendall and Leo struck up some poolside chemistry on their date last week even though she was somewhat coupled up with Joe. With her newfound feelings in consideration, she was clearly torn between the two guys. Kevin, thinking it was common knowledge, told her Leo might not be fully committed to her since he was smooching other girls. What resulted tonight was round two of his meltdown, where he ended up making a not-so-nice toast that insulted Kendall before throwing a glass of something on Joe when he ran to her defense.
"I'm out!" Leo declared, before leaving for good (even though he wasn't going to get a rose anyway). The general consensus of the Paradise cast? Good riddance.
Bachelor in Paradise airs Monday and Tuesday nights on ABC.