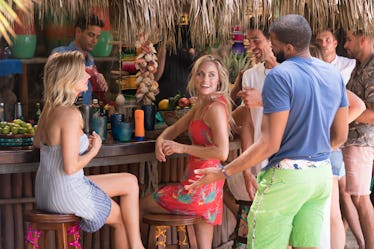 The First Rose Ceremony On 'Bachelor In Paradise' Was Nerve-Racking To Watch
ABC
So many shenanigans happen on Bachelor in Paradise that it's easy to forget there are even roses at stake on this show, but the ladies finally handed out their petals of approval to the men in Mexico this week. The late arrival of contestant Colton Underwood meant that two men were now going home instead of the original solo guy, so who goes home on Bachelor in Paradise Episode 2? Wills Reid and Nick Spetsas didn't receive roses, becoming the first to leave Paradise this year. Chin up, fellas, your influx of DMs are waiting!
The pair's eliminations came after Colton entertained the group at the cocktail party with his confusing views of his relationship with Tia. After a quick date with Chris Randone, Tia Booth was finally satisfied when Colton showed up, seemingly locking in her rose pick, but her confusion about their relationship and Colton's unwillingness to commit thwarted her feelings for him. Chris was initially left in the dust after Tia reunited with Colton, prompting him and his Goose Gang cronies to question Colton about his intentions with Tia so soon after The Bachelorette. Tia then ran back to Chris after Colton refused to define their relationship. Are we sure this isn't just Tia's own delayed season of The Bachelorette?
In a total plot twist, Bibiana Julian gave Colton her rose after the former NFL player assumed that Angela Amezcua was his best chance of staying on Paradise. Angela actually awarded her rose to John Graham, forever putting her in good favor with the nerds watching, but Bibiana choosing to save Colton stirred up some tumultuous ocean waves. In Bibi's words, she wanted him to use the rose to redeem his reputation, but Tia wasn't thrilled about the decision, as it meant she would have to see Colton on dates with other girls. I bet Tia shares Bachelor Nation's preference to have seen Nick and Wills on more dates, TBH.
Although there weren't as many instantaneous couples as past Paradise seasons, some solid pairs formed quickly over the course of the first two Season 5 episodes and chose each other at the rose ceremony. Bachelor Winter Games alum Kevin Wendt connected with Astrid Loch after his initial crush Krystal Nielson went on a date with Kenny King. Male model Jordan Kimball had a sweet spot for bumper car trauma victim Annaliese Puccini, while Eric Bigger and Nysha Norris were a locked match. As for everyone else, figuring out who would get a rose was a bit messier. Nick unsuccessfully fought to get back into Chelsea Roy's good favor, while Kendall Long seemed torn between hot commodity Grocery Store Joe and Venmo John before picking Joe.
Of course, nothing stays calm for too long in Paradise. One rose ceremony down means that the tables turn for the game's next cycle. New women will hit the beach, and the ladies will have to make their affection clear to win roses from the guys this time around. We'll have to wait and see if any of these couples last another week, but meanwhile, I'll toss in my #WillsForBachelor vote while fans' sympathy is still strong.
Bachelor in Paradise returns on Tuesday, Aug. 14, at 8 p.m. ET on ABC.