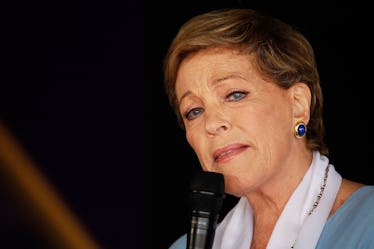 Julie Andrews Plays A Mysterious Role In 'Aquaman,' So Listen Carefully
Brendon Thorne/Getty Images Entertainment/Getty Images
With no Star Wars film coming out the week before Christmas, the time frame of Dec. 19-21 looks like a disaster zone, with no less than eight films premiering in the same 48-hour span. But in the end, the buzz suggests the fight will come down to Disney vs. Warner Bros. (again) with Mary Poppins Returns facing down Aquaman for the holiday box office championship. But as Aquaman producers revealed this past weekend, the Warner Bros. film has a secret casting weapon: Julie Andrews, the O.G. Poppins. Who does Julie Andrews play in Aquaman?
This was almost certainly not a deliberate casting to play against Mary Poppins Returns (where Andrews notably does not have a cameo, unlike original star Dick Van Dyke). For one thing, the Warner Brothers DCEU has been such a jumbled mess of scheduling due to delays in projects like Flashpoint and quiet cancellations of planned movies like Justice League 2 that no one thought Aquaman would be a December film. Aquaman was initially scheduled to arrive July 27 of this year, only to drop back to Oct. 5, 2018, and then again once more to December.
Poppins, meanwhile, has always been a December release, but it was planned to arrive Christmas Day, only dropping back to the Dec. 19 this past summer.
But even though Andrews has made it clear the choice not to appear in Mary Poppins Returns was all her own (in order not to overshadow Emily Blunt), it was hard for fans not to see Andrews' surprise cameo in Aquaman as a shot across the Disney bow. Especially because the role she's been given is such a high-ranking one. She's playing the voice of the Karathen, a creature in the comic who is considered to be "the most powerful on earth."
Speaking to Entertainment Weekly, Aquaman producer Peter Safran let the cat, or perhaps the sea monster, out of the bag.
We wanted the Karathen to have the voice of a classic British actress, albeit somewhat digitally altered. And when we found out Julie was interested and available and excited to do it, casting her was a no-brainer.
But even so, aware of the coming competition, Safran couldn't resist a small jab:
Who knew that Aquaman would have the real Mary Poppins this Christmas?
The choice to cast Julie Andrews as the Karathen is also one to make the creature, which is made to sound like something out of a horror movie, a little more relatable.
According to director James Wan, who talked about it during a set visit last year:
I didn't set out to make a horror movie. It just so happens that you're dealing in a world that is beautiful, magical, but at the same time, you know, scary as well. People are terrified of the ocean because they don't know what's down there. There's all these creatures that live down in the ocean that are dangerous to humans.
Good thing audiences will have Julie Andrews and Mary Poppins to hold their hands. Mary Poppins Returns arrives in theaters Dec. 19, 2018. Aquaman premieres two days later on Dec. 21, 2018.