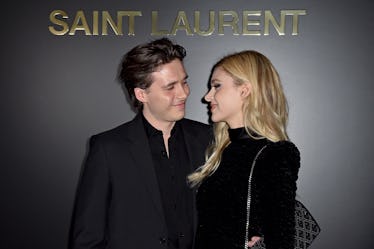 A List Of All Brooklyn Beckham's Exes Before He Met The One
Dominique Charriau/WireImage/Getty Images
Wait, so, now that he's engaged, I think it's time to discuss who Brooklyn Beckham dated before he was with Nicola Peltz. ICYMI: Beckham announced that he's engaged to Peltz on July 11. "Two weeks ago I asked my soulmate to marry me and she said yes xx I am the luckiest man in the world," he wrote alongside a dreamy picture of himself and a ring-clad Peltz. "I promise to be the best husband and the best daddy one day ❤️ I love you baby xx."
That same day, Peltz posted an equally gushy post announcing the same news. "You've made me the luckiest girl in the world. I can't wait to spend the rest of my life by your side. your love is the most precious gift," she wrote alongside the same dreamy photo. "I love you so so much baby and thank you harper for this pic 🥰."
If their engagement seems quick to you that's because, well, it is. The two were first rumored to be an item in October of 2019 when they were reportedly spotted leaving Leonardo DiCaprio's Halloween party together to grab a late-night bite. Since then, things have only escalated with them displaying their love for the world to see on their respective Instagram profiles.
But, before he was madly in love with the woman who will now one day be his wife, Beckham had some romantic trysts with other A-List women. Check them out for yourself below.