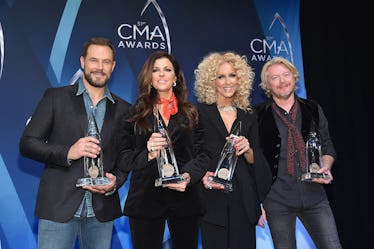 Here's Who The Members Of Little Big Town Are, If You're Curious
Mike Coppola/Getty Images Entertainment/Getty Images
If you're not a country music lover, you may not have known the members of Little Big Town by name until, you know, Taylor Swift went and wrote them a Grammy-nominated song. Don't worry, you're not alone. But here's the thing — not only is the band up for Best Country Duo/Group Performance at the 2018 Grammy Awards, they're also nominated for Best Country Album. Not too shabby. And now that you've heard them belt out the beautifully emotional Swift-penned lyrics of "Better Man," you're probably wondering just who are the members of Little Big Town?
A little background: Little Big Town started as duo back in 1987, made up of Karen Fairchild and Kimberly Schlapman. The two met while they were still in college and started singing together. Then, ten years later, Jimi Westbrook joined the mix. And in 1999, they added their final member, Phillip Sweet, making the awesome country quartet complete. Oh and get this: Two of the members of the group, Fairchild and Westbrook, have been married since 2006! The couple welcomed their first child in 2010.
In the 15 years since LBT released its first album, the band has slowly but surely become Nashville royalty, scoring eight top ten country singles and three number one country albums.
LBT has also nabbed two Grammys, and is well on its way to becoming a bonafide crossover band, thanks to collabs with singers like Swift and Pharrell Williams — who produced their funky album Wanderlust — and to live performances with pop stars like Ariana Grande, who had the group join her for a kickass performance of her hit song "Bang Bang" at the CMA Awards back in 2014.
Pretty cool. Also, where can I get those awesome light-up clothes?
Little Big Town's latest album, The Breaker, debuted at number one on Top Country Albums, and it led to the band scoring Vocal Group of the Year at the Academy of Country Music Awards.
"Better Man" also took home Song Of The Year at the 2017 Country Music Awards in November, where Little Big Town gave Swift a big shoutout when they accepted the award. "Taylor, wherever you are, thank you for this beautiful song and for loving songs and loving Nashville," Fairchild said from the stage.
And if you're wondering how the partnership with T. Swizzle came to be in the first place, Fairchild gave us the inside scoop in an interview with Billboard magazine.
"She [Taylor] sent us this song, and it was one that was really special to her," she explained. "She's never pitched a song to anyone before, and the minute we heard it, we were like 'Man, that is a song that we're going to cut.'"
And so they did. But will the song actually earn the crew a country duo/group performance Grammy? We'll have to wait until the ceremony airs on Jan. 28 to find out. But I would really love to see "Better Man" take home the prize. After all, the lyrics — about wishing your ex was "a better man" — seem to have hit a big nerve with fans.
"I just saw a girl's car, where she must have been mad at her boyfriend," Fairchild explained to the Tennessean during a pre-Grammys party in Nashville on Jan. 11. "She wrote in chalk on the windshield, the whole lyric all over his truck. The lyrics for 'Better Man.' Clearly, some people are enjoying saying that right now."
"Oh wow," added Schlapman. "She should have done it in Sharpie."
Word.
Meanwhile, just last week, Little Big Town announced that they will join another blonde vocal powerhouse — Miranda Lambert — to co-headline the Bandwagon Tour this summer.
Y'all ready to jump on?