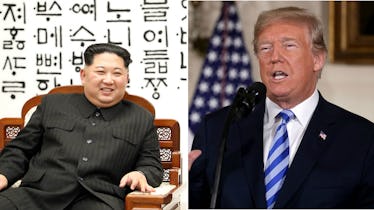 3 Americans Were Freed By North Korea Before Trump's Meeting With Kim Jong-Un
Pool/Getty Images
President Donald Trump tweeted early Wednesday, May 9, that three Korean-Americans who were being held captive in North Korea have been released. Who are the Americans North Korea released? They include three men who had been accused of "hostile acts" by the government there, according to published reports. Ahead of Trump's upcoming meeting with North Korean leader Kim Jong-un, it seems as though the president just got a big win.
Trump tweeted that the three "wonderful gentlemen" seem to be in good health. The gents he is referring to, all of whom are American citizens, include Tony Kim, Kim Hak-song, and Kim Dong-chul. Tony Kim and Kim Hak-song were detained in 2017, according to The New York Times, whereas Kim Dong-chul was arrested back in 2015.
Tony Kim had reportedly spent a month teaching accounting at Pyongyang University of Science and Technology, and he was arrested in April 2017 while attempting to leave the country, per the Times. According to the official Korean Central News Agency, he was arrested for "committing criminal acts of hostility aimed to overturn" North Korea, The Washington Post reported. He reportedly studied accounting at the University of California, Riverside and at Aurora University, the Times reported, and reportedly worked as an accountant in the U.S. for more than a decade.
Kim Hak-song also taught at the university, and was arrested for "hostile acts" just two weeks after Tony Kim was arrested, per the Post.
Kim Dong-chul has been held in North Korea the longest, according to published reports. He reportedly managed a hotel business on the border of North Korea and China, per The Washington Post, and was accused of conducting espionage for South Korea's intelligence agencies.
Trump excitedly shared the news Wednesday morning, May 9, in a series of tweets. Secretary of State Mike Pompeo (who was controversially appointed in April by Trump despite his homophobic beliefs), visited North Korea ahead of a planned summit with President Trump and Kim Jong-un in a few weeks.
"Secretary Pompeo and his 'guests' will be landing at Andrews Air Force Base at 2:00 A.M. in the morning," Trump tweeted. "I will be there to greet them. Very exciting!"
Trump's sudden interest in the Korean-American prisoners is likely because this reflects positively on his administration. But on May 2, he blamed their continued imprisonment on President Barack Obama, which confused some people, because two of the three prisoners were detained during Trump's presidency.
It is, however, positive news that these Americans have been released and are apparently unharmed. The New York Times reported in 2017 that the conditions of North Korea's prisons and criminal justice system are quite stark.
The prison cells are tiny, prisoners are reportedly given little food or water, and often do not see daylight, per the Times. It is also alleged that the government in North Korea tries to force confessions, as was suspected of Kim Dong-chul's confession in January 2016. CNN reported that it could not tell whether the confession was made "under duress."
"The really serious crime that I committed is that I carried out a plan against this country aiming to eliminate its top authorities and bring about the collapse of its system," Kim Dong-chul said in March 2016.
He added, fighting back tears, "I would like to send a message to my family, which I love. I feel pain as I show myself here as a criminal who has committed a great crime which is shameful and ineffaceable."
CNN's Jake Tapper tweeted out a statement reportedly from Tony Kim's family regarding the prisoners' release. "We ask that you continue to pray for the people of North Korea and for the release of all who are still being held," the statement reads in part.
In announcing that Pompeo was returning with the three detained Americans, Trump also tweeted Wednesday morning that a date and location for his meeting with North Korean leader Kim Jong-un had finally been set. "Also, good meeting with Kim Jong Un. Date & Place set," Trump tweeted.
Those details have not yet been made public, but it has been speculated that the meeting could take place somewhere along the de-militarized border between North and South Korea.