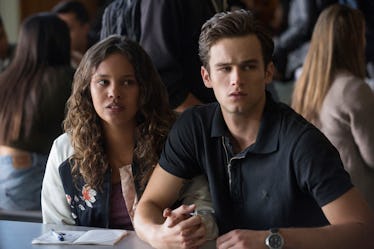 There's A '13 Reasons Why' Easter Egg In Season 2 & You Probably Have Questions About It
Netflix
Watching Jessica and Justin's relationship on Season 1 of 13 Reasons Why crumble as a result of Justin's involvement in Bryce's rape of Jess was heartbreaking, but Justin's absence at the beginning of Season 2 was even more concerning. Five months after Hannah's death, Jessica returns to school while Justin is nowhere to be found, but when Clay finds a mysterious postcard Jessica has in her bedroom, he discovers a message with a major Season 1 Easter Egg. In case your memory of the Season 1 throwback is a little fuzzy, we're answering an important question for you: Who are Sid and Nancy on 13 Reasons Why? This post contains spoilers for 13 Reasons Why Season 2.
When we last saw Justin at the end of Season 1, he appeared to have left town, and by the time Jessica returns to school five months after Hannah's death, no one has seen him recently. Meanwhile, once he has received a mysterious polaroid claiming that "Hannah wasn't the only one," Clay questions Jessica about whether she's heard from Justin. She avoids answering him, but Clay snoops around in her bedroom and sees an Oakland postcard from "Sid" that tells "Nancy," "I'll always love you."
It's obvious to tell that the message is from Justin, and Clay uses the card to eventually track him down in Oakland with Tony's help. There, Justin has been living on the streets and has developed a drug problem. But if you just tuned in for Season 2 to see what all the 13 Reasons Why fuss was about (um, spoiler alert, but you sort of missed a lot), the Sid and Nancy reference probably threw you for a bit of a loop. Don't worry, its meaning definitely doesn't align with the teens relating to Sid getting charged with Nancy's murder.
Last season, Liberty High threw a costume competition with a $200 cash prize. Despite Marcus's impressive "El Nino" costume, Justin and Jessica swept the competition as Sid Vicious of Sex Pistols fame and his girlfriend Nancy Spungen. In true "these-kids-are-too-young-to-know-icons" fashion, the couple described their alter egos as "sexy punk rockers."
Still, compared to some other students' lame costumes, Jessica and Justin were willing to commit to their parts, and Season 2 eventually hinted that the the Halloween costumes meant more to them than a fan may initially think. Thanks to Jessica's character Instagram account recently posting a throwback photo of them on Halloween, speculation about the two's relationship playing a key part in Season 2 began ahead of the new episodes' launch.
Justin clearly employed the use of the false names to protect himself while on the run, assuming that no one but Jessica would see the note. In Jess's defense, she did keep the postcard in an obscure spot in her room, and a nosy Clay stuck his nose where it didn't belong. Although Clay and Tony rescue Justin, and Clay and Sheri try to help him detox from a heroin addiction, Jessica initially refuses to see her ex, suggesting that even when Justin sent her his note, she didn't want to intervene and try to find him. It's complicated for these two right now, and Jessica hanging out with ex-boyfriend Alex so much definitely isn't helping her feelings about Justin. Meanwhile, Justin's body is painfully detoxing from drugs while he's also under pressure from Clay to sober up in time to testify in Hannah's trial.
We'll have to keep watching to see if Jessica and Justin cross paths, but based on the hints seen in Selena Gomez's "Back To You" music video, it definitely looks like this season has an encounter between them in store.
If you or someone you know are experiencing suicidal thoughts, call 911, or call the National Suicide Prevention Hotline at 1-800-273-8255.