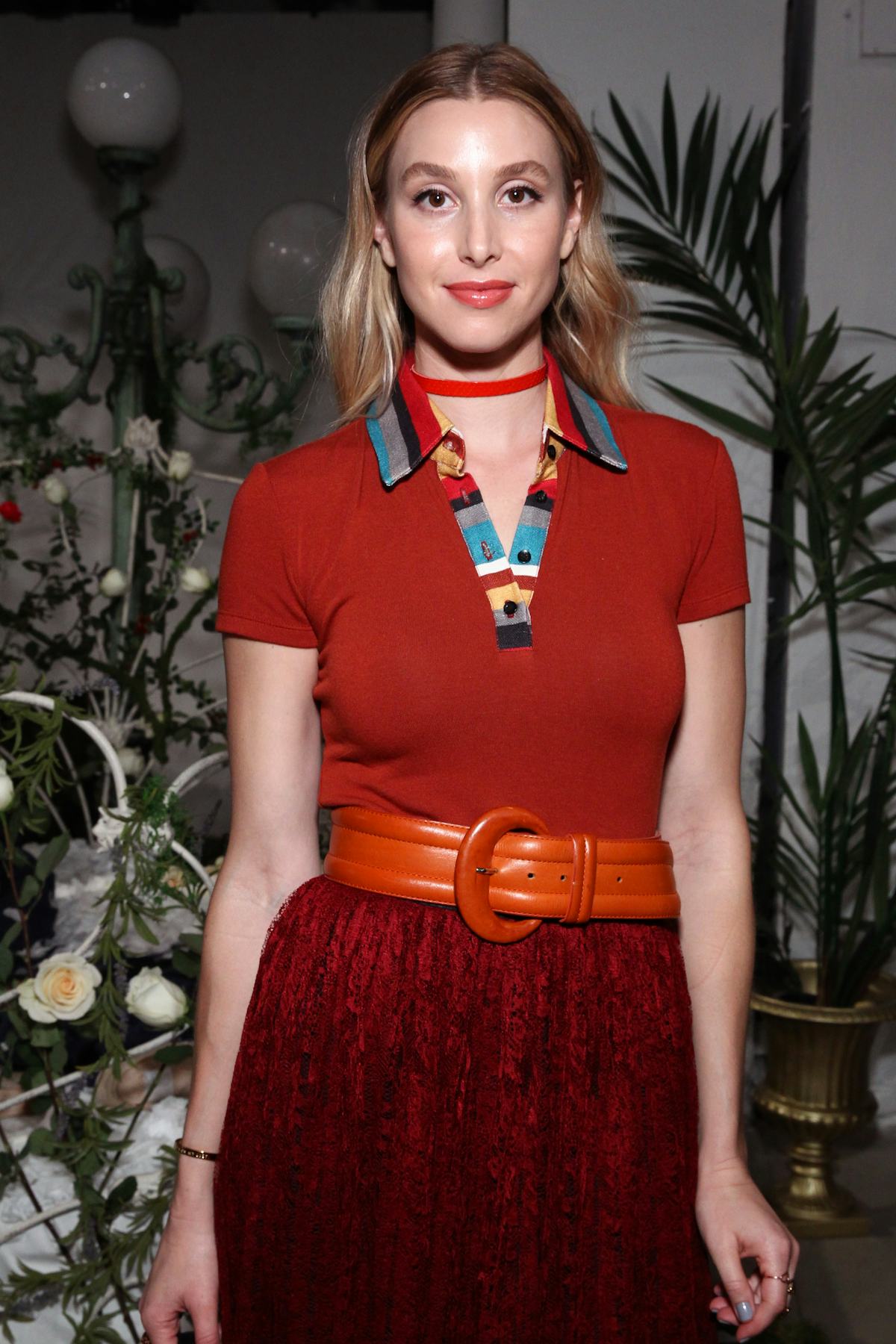 Whitney Port Gets Candid About How She'll Spend Her Son's First Holiday - EXCLUSIVE
Astrid Stawiarz/Getty Images Entertainment/Getty Images
Whitney Port seemingly does it all: since rising to fame after being cast in the MTV series The Hills, Port's career has only soared higher — she's juggling her own fashion line, serving as a judge on the eighth cycle of Britain & Ireland's Next Top Model, and authoring a book, True Whit: Designing a Life of Style, Beauty, and Fun. And, as much as she's accomplished in her career, she's also made some big moves in her personal life. After marrying television producer Tim Rosenman in 2015, Port and Rosenman welcomed their first child in July 2017, a baby boy (adorably) named Sonny.
Needless to say, Port has a lot to be thankful for this holiday season.
Now, Port is sharing everything about her holiday plans as a new mom, including how she'll be handling Sonny's very first time on a plane as she and Rosenman visit family. She tells Elite Daily, "That should be interesting!"
As far as holiday traditions, Port says things have changed a bunch over the years. She says,
Now we celebrate with my husband's side of the family, but I think just going back East and spending that family time together is the best tradition there is. Making sure that Sonny knows that the holidays are family time, and that it's an important time to reconnect and enjoy each other — it's a very general tradition.
And when it comes to traveling with Sonny, Port is no-nonsense in regards to his health. Recently partnering with Tylenol, Port tells Elite Daily she is going to arm herself with all of the travel must-haves for her baby's first flight. She says,
He's now starting to teethe, so Tylenol will help him soothe those pains and discomfort. I also got him little baby earphones that we can put on him and play some of his favorite music and lullabies. Not that he has favorites, but obviously I know by now there are certain things that really calm him and soothe him.
She adds that she might even do something special for other passengers, in the event that Sonny becomes difficult. She says, "Someone asked me, 'Are you going to make little goody bags for all of the passengers sitting around you, so that if your baby is kind of a mess and crying, you've given them [the passengers] a little something, like some candy or some treats?' and I was like 'Oh, that's actually a really good idea, I've never thought about that!'"
A new mom who knows how to keep her baby and the plane passengers around her happy? Definitive proof that not all heroes wear capes.
Traveling aside, Port explains that Christmas is about the "simple things," and how her idea of perfect Christmas morning is much like the holiday season itself: relaxed and comfortable. "I think honestly that by the end of the year, it's normal for people to feel so burnt out, and it's really nice to have the time to travel and do nothing with people that you feel very comfortable with," she says.
And don't forget the food. She continues,
My ideal Christmas morning is waking up and helping my mother-in-law get a whole feast prepared because she loves to cook. And just plopping on the couch and watching everyone enjoy opening presents. I know that it's really simple, but I like simple things. It's just family time. And eating good food!
When Port reflects back on her year, she explains how being a mom has changed her life in ways she didn't believe were possible. She tells Elite Daily, "It's wild. It's obviously completely overwhelming – it's something so new that you have no experience doing, and can read about but don't really know what to expect until you have it. But it's also just so rewarding and amazing and filled with love at the same time. It's awesome."
She also shares some of the highlights of being a new mom:
Just getting to watching his little personality grow. It's like — this may sound creepy, but physical touch is so important. I just love being able to cuddle this cute little baby that my husband and I made. And just to watch all of the little steps he takes to become a person. When he started smiling for the first time, reacting to us and recognizing us, that was just so heartwarming and really makes all of the challenging times worth it.
But Port notes that there are challenging times, and trying to find a "balance" is something that she knows she might not ever perfect. "I think the most challenging part is just finding the balance between your old life and your new life," she says. "And I'm not even sure if it's something you ever really find perfectly, but I think that you kind of do your best to pay attention to both aspects of your life. I think that when I was pregnant, I thought, "Oh, I'm just going to be one of those moms where my baby just fits into what I'm going to do." And it didn't really take me too long to figure out that Sonny's the boss, and that I kind of have to make my life fit into what he needs."
She continued, "I think that's the biggest challenge is that it's just the sacrifice you have to make, both professionally and in your relationship with your husband, to keep your baby happy and healthy."
Still, it seems that Port is balancing her plate pretty well: as a new mom, a wife, and a business woman, she seems to strike an envious equilibrium that makes her extraordinary yet somehow also relatable to the everyday mom.
For more of Whitney Port's tips on being a new mom, you can visit her YouTube channel.