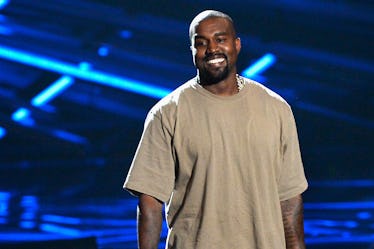 Kanye West Won't Be At The Grammys This Year & Fans Are Seriously Disappointed
Kevork Djansezian/Getty Images Entertainment/Getty Images
Kanye West is always a wild card when it comes to any awards show, and we're always here for the drama. Will he go on an epic rant? Will he even show up? Or will he boycott the awards show entirely? Is the idea of Kanye West not making any waves or causing any drama out of the question? (Usually, yes.) Kanye has had quite a start to his 2018: From becoming a father for the third time with the arrival of Chicago West to the swirling rumors of him going back on tour this year, it seems there's a lot going on. But most people have an even more pressing question: Is Kanye West at the Grammys?
It's hard to forget when West threatened to boycott the 2017 Grammys if Frank Ocean's two albums weren't considered for any awards. As you all know, the Grammys have a Sept. 30 deadline, and Ocean's albums were not submitted in time, meaning they were not eligible for consideration. But West took the stage during his Saint Pablo Tour in Oakland, California, back in 2016 to call out the committee's double standard, angered that they revised the rules for Lady Gaga to allow her to perform in the show. If they were able to alter the nomination rules for Gaga to perform, why not do the same for Frank Ocean? On stage, he said,
So, I don't know if any of y'all remember: I was supposed to go on a tour with Gaga, like, about six, seven years ago — a while back. I remember, that it was something... She wasn't nominated for Best New Artist, right? But they wanted her to perform at the show; they wanted her to open, right? So, the Grammys secretly changed something about the nominations in order to nominate her — in order for her to perform in the show.
He continued, saying,
I'm saying this to y'all, because a lot of people, you know, they try to make a scene, like, 'I'm so self-centered.' But the album I listened to the most this year is Frank Ocean's album. And I will tell you this right now: If his album's not nominated in no categories, I'm not showing up to the Grammys.
Well, damn. So, when West was nominated for eight awards for his 2016 album, Life of Pablo, everyone was wondering if he'd hold true to his word and not be in attendance.
Spoiler alert: Kanye West was not going to attend the 2017 Grammy Awards, but Kris Jenner swooped in and explained why while she co-hosted the E! News pre-show. She said,
The truth is, he's got a big fashion show in New York because it's New York Fashion Week ... And my entire family is back there ... Some of the kids are on their way tomorrow.
She also added, "He's got a lot of work to do. We wish he could be here!"
Hm. Interesting. Was he really working, or just boycotting because of Frank Ocean's snub?
The world may never know.
So, although West didn't receive any Grammy nominations this year, will he be in attendance? Can we expect to see Yeezy there with Kim K? Will he make a surprise appearance and hop on stage to interrupt Taylor Swift, a l`a 2009 VMAs?
Well, folks, it looks like Mr. West is NOT going to be in the building. Fans were clearly upset that Kanye West is a no-show for the Grammys and took to Twitter to express their ~emotions~:
That last tweet isn't wrong, TBH.
But hey, maybe it's for the best that he's not in attendance. He's got a new baby at home to look after (hi, Chicago!), and — let's be real here — can we really trust Mr. West to keep things drama-free near any kind of stage?
No, we can't.
And that's why we love him.