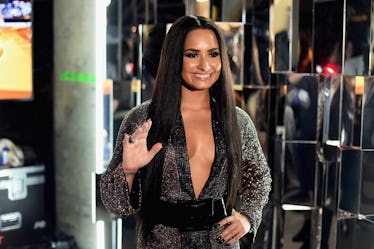 Demi Lovato Was Weirdly Quiet On Social Media During The Grammys & Fans Are Concerned
Frazer Harrison/Getty Images Entertainment/Getty Images
"Sorry Not Sorry" singer Demi Lovato has had all of our hearts since she was singing alongside the beloved Jonas Brothers in Camp Rock. On such a musical night like the Grammys, it's only appropriate to mention how golden of a year 2017 was for Demi Lovato and her passionate fan base. The artist has really revealed a lot musically, emotionally, and personally this past year, but is Demi Lovato at the 2018 Grammys? Unfortunately, the star didn't grace the red carpet with her presence and has remained silent on social media throughout the awards show.
Lovato gained her first ever Grammy nomination in 2016 for Best Pop Vocal Album for Confident. The album was released in 2015 and before that, we hadn't heard a new album from her since the release of Demi in 2013. That night, she also performed for the the very first time on a Grammy stage for a musical tribute to Lionel Richie. She didn't leave with an award, but oh boy, was "confident" the perfect word to describe that album.
Much can also be said about the 2017 single, "Sorry Not Sorry" on the Tell Me You Love Me album. If you didn't see Lovato's "Sorry Not Sorry" music video, you are certainly missing out. Take a look at it below.
This isn't the only music video that had fans all in their feelings. Remember when those pictures surfaced of Demi wearing a wedding dress and people totally flipped? And by flipped, I mean social media had so many questions and literally could not even handle it?
Well, they were snippets of the music video for the song, "Tell Me That You Love Me." The video was released in December 2017 and it was beautiful and heartbreaking all in one. To fully understand why the wedding dress and the video in general will certainly make you shed a tear or two, you have to read the chorus of the song.
Oh, tell me you love me / I need someone on days like this, I do / On days like this / Oh, tell me you love me / I need someone / On days like this, I do / On days like this / Oh, can you hear my heart say / No, you ain't nobody 'til you got somebody / You ain't nobody 'til you got somebody
Over the years, Demi Lovato has opened up about personal struggles she dealt with throughout her youth and her rise to fame. These struggles included being bullied, battling an eating disorder, and depression. In Lovato's documentary, Simply Complicated, which was released on Oct. 17, 2017, she really opened up about how these obstacles shaped her perspective and how they found their way into her music. Leading up to the release of the documentary, friends of Demi even opened up about what it's like being pals with her IRL, and it was beyond sweet.
The singer is so serious about mental health, that on her upcoming your, she will be offering free therapy sessions for ticket holders who are dealing with mental health and wellness issues.
But on the night of this year's Grammys, the star has been silent on social media, and fans are really broken up about it. Some of them addressed how much she got snubbed at this year's awards show. Twitter user @adkinsteas wrote, "demi lovato wrote her best album and did not get a SINGLE. NOMINATION. that's who got snubbed the worst this year."
Another fan said, "I'm visibly stressed because Demi Lovato isn't nominated for any Grammys."
Even though Demi wasn't at the Grammys, it's clear her loyal fanbase is showing their passionate support and how much they love her. Seriously though — I think we can all agree that this fan truly spoke all of our feels: "Honestly still pressed that the #GRAMMYs snubbed Miss Demi Lovato though."