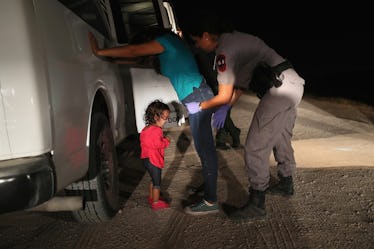 Here's How To Volunteer To Help Migrant Children, If You Can't Stand Doing Nothing
John Moore/Getty Images News/Getty Images
In the wake of President Donald Trump's policy of separating children from their parents at the southwest border, there are now thousands of children who are in need of help. With the upset and outrage over this policy, many people want to know how to help. Here's where to volunteer to help migrant children, because they desperately need you.
The office of Attorney General Jeff Sessions sent out an April 6 memo announcing Trump's "zero-tolerance" policy regarding undocumented immigrants. Under the new policy policy, all adults crossing the border without documentation not at a checkpoint will be prosecuted, which means that any children traveling them will be taken away, as the children can't go through the adult criminal justice system. The children are processed under a separate system. Currently, there are over 2,000 migrant children who have been taken away from their parents as a result of Trump's policy, according to The New York Times.
The best case scenario is that these kids get reunited with their families immediately, but that's going to take a lot of effort from people willing to help out. Organizations like The Refugee and Immigrant Center for Education and Legal Services (RAICES) and the ACLU are looking for donations to help pay the bond for the parents being kept in detention centers and to help with legal services for the children and the parents. But there are also a few places that are accepting volunteers, most of which require you to have some sort of legal background — but some don't. Here's where to help, if you can't stand doing nothing.