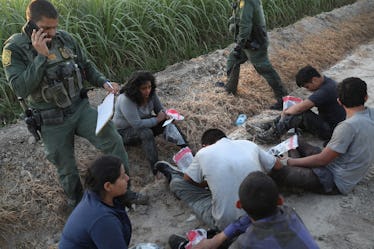 Here's What You Can Donate To Migrant Children & Families At The Border
John Moore/Getty Images News/Getty Images
With more than 2,300 kids now separated from their parents under the Trump administration's "zero tolerance" policy, it seems like increasing amounts of people are desperately wondering: what can I donate to migrant children and families at the border? Whether you're in a position to donate money or can only spare toiletries, I'm here to tell you all the ways you can step in and help support these families. (P.S. You might wanna grab a pen, 'cause there's a lot of options.)
Although President Donald Trump signed a border executive order on June 20 — which is reportedly designed to keep families together while they are detained after illegally crossing the border — the children who are already in U.S. custody won't immediately be returned to their parents. As a result, tons of organizations have stepped in to help families raise money for legal help, as well as for basic necessities for everyday life. They need your help in this ongoing atrocity, too, so here are a few things you can offer up for those who have been impacted.
The most obvious thing here is, of course, going to be money. The Refugee and Immigrant Center for Education and Legal Services (RAICES), for example, is an organization you can donate to that seeks to provide legal services to every child affected by the policy in the state of Texas, which — as Elle notes — could be around 13,000 children. A Facebook campaign has already raised nearly $14 million for legal aid, but TBH, you can never have too much money for such a cause. If you wanna spread your cash out, though, you can also donate to organizations like Kids In Need of Defense (KIND) or the American Civil Liberties Union (ACLU) — both of which are committed to defending the rights of immigrant families.
If you prefer to donate directly to the kids, you can send items like diapers, shampoo, pajamas, and toothpaste to Baby2Baby, an organization that provides supplies to low-income parents in the United States. Both Baby2Baby and KIND have created an online baby registry at Target that makes donating extremely easy, so it only takes just a few clicks before your contribution will be on its way to the children in detention. (!!!)
Or, if you've found that you don't have anything tangible to donate, there are still options for you to get involved, so don't fret just yet. The CARA Project is an organization that relies on the support of volunteers, law students, attorneys, and paralegals with experience in asylum work to help challenge "unlawful asylum, detention, and deportation policies." The only catch is that it asks its volunteers be fluent in Spanish or at least be open to collaborating with an interpreter, but if you're willing to try it out, check it out. Can't hurt to try, right?
And most importantly, you can also get out there and let your voice be heard. Organize a march or protest, or call your representatives to demand change, because — even though Trump has rescinded the "zero tolerance" policy already — there are still children locked away in detention facilities, desperately waiting to be reconnected with their families. Trump had also made it clear that he wasn't backing down from prosecuting adults who cross into the United States illegally when he signed the executive order, so keep in mind that the fight is definitely far from over.
Anything counts, you guys. And whatever you can do to help will surely be appreciated, whether it's a monetary donation or something as simple as your time and energy.