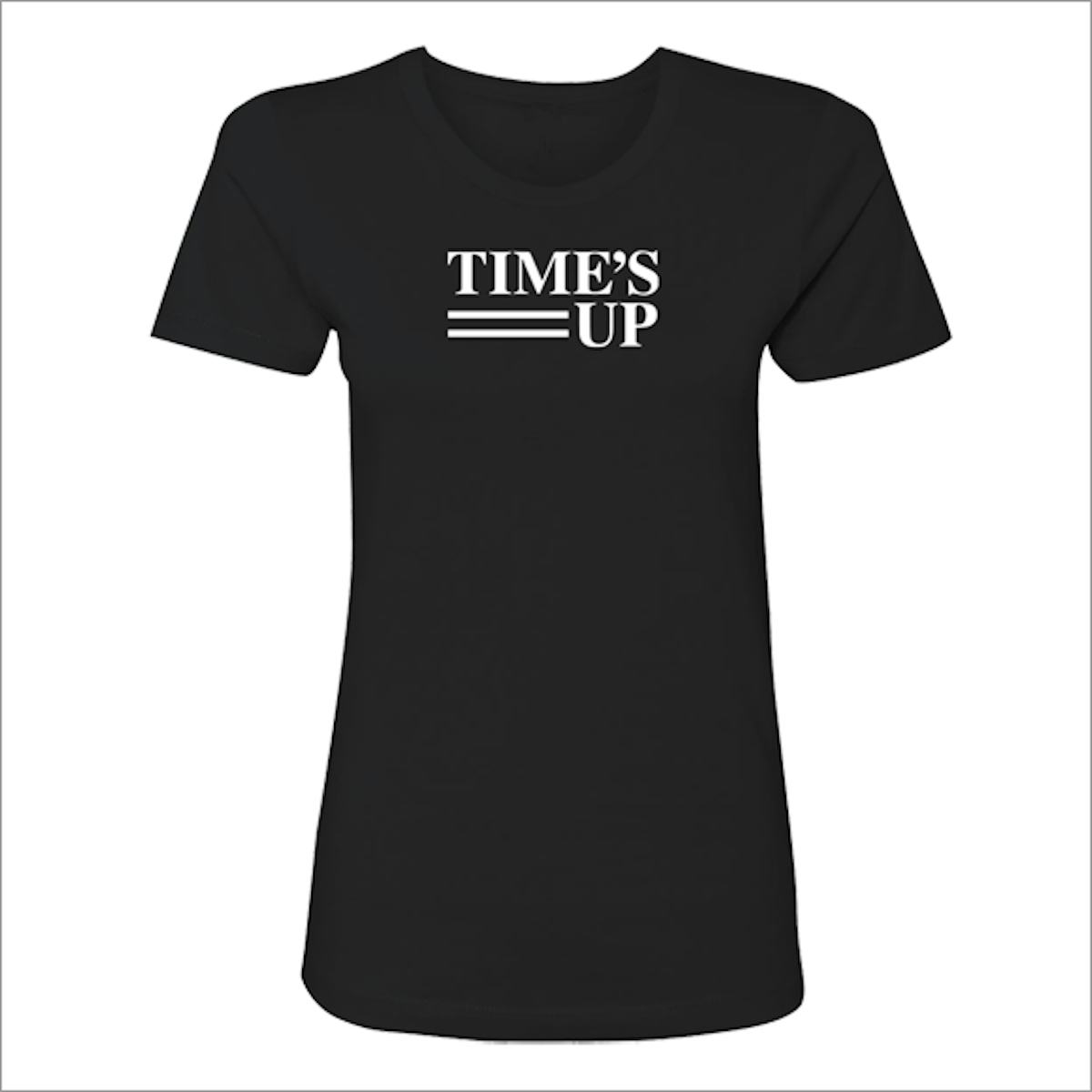 Here's How To Get The Time's Up Merch & Support The Legal Defense Fund Like The Stars
Times Up Now
Beauty and fashion obsessed fans are usually locked in when it comes to the award show season, but this year women are standing together to use their voice and fashion for good. As 2018 rang in, over 300 women joined together to found the Time's Up initiative, and you may be wondering where to buy Time's Up Now Shirts and other merch. I've got good news for you: the merch is available for pre-order now.
While everyone was ringing in the New Year, women in Hollywood were preparing to announce the Times Up Now movement. After everything that has been going on in Hollywood, and the world in general, over 300 women who work in film, television, and theater came together to form a legal defense fund. Time's Up was created to address the inequality and injustice that underrepresented groups of people experience in the workplace. They will partner with advocates for "equality and safety to improve laws, employment agreements, and corporate policies":
The Times's Up Legal Defense fund will subsidize legal support for individuals who have experienced sexual harassment or related retaliation in the workplace. The Fund is housed at and administered by the National Women's Law Center, an established, national women's rights legal organization. A network of lawyers and public relations professionals across the country will work with the Center's Legal Network for Gender Equity to provide assistance to those who have experienced harassment or retaliation.
After reading up more about the fund and everything this movement is looking to accomplish, I couldn't wait to join in and help any way that I could. You may be wondering how you can help? Well the Time's Up Now merchandise website is now up, and with every purchase, 100 percent of the proceeds will be donated to the legal defense fund. Currently everything is on pre-order but take a look at what items you want to put in your cart!
Time's Up Now Logo Pin
Seriously, who doesn't love a good logo pin? Whether you want to rock this on a denim jacket, or pinned to a tote bag, this is a super subtle way to support the movement everyday.
Time's Up Now Fitted Logo Tee
New year, new me, am I right? Whether you need a t-shirt to hit the gym or you want to make a statement at the workplace on casual Friday, this is the shirt for you. Not only is it made out of 100 percent cotton, but 100 percent of the proceeds will support the fund. Basically, you 100 percent need this shirt.
Time's Up Now Notebook
In the new year, people love getting a fresh new notebook. Whether you need something to write down goals you're manifesting or trying out a bullet journal, this notebook is the perfect item. It's also made out of faux leather, so I think this is a winning purchase all the way around.
Time's Up Now Onesie
The older I get, I definitely get baby fever, but for now I'm definitely going to settle for adopting a dog. If you're expecting or know someone that has an infant in their life, this onesie is super adorable. What better way to teach the next generation about what's right?
Time's Up Now Sticker
I'm no longer in school, but this sticker would be perfect on the cover of your school notebook. For all of us post-graduate folks, stick this on your laptop or computer. Also, the price of that sticker is less than a Starbucks drink, so I think you can forgo coffee one morning.
Time's Up Now Tote Bag
Need a tote for your upcoming trip to Trader Joe's? I don't know about you but I'm obsessed with tote bags. They're so versatile and what better way to make a statement then on canvas.