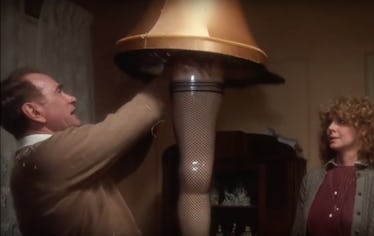 Here's Where To Buy The Leg Lamp From 'A Christmas Story' For The Best Gift Ever
The holidays are finally, finally here, which means you have officially entered the dreaded gift-giving portion of the year. What do you give your dad, who always says he wants socks? Or your boss, because it seems weird if you don't get her something? Or that person you're kinda, sorta dating-ish? Well, if any of the above are fans of A Christmas Story, I have got you covered. Here's where to by the leg lamp from A Christmas Story, because, I promise, no one will not like this.
You can pick up a full-sized, 45-inch leg lamp on Amazon. It looks pretty much exactly like the one in the movie, fishnet stockings and all. It even comes in the exact same "fragile" packaging that you see on-screen, which is just pure dedication right there. You'll have to loosen the purse strings a little bit for this one (it's being sold for $159.99), but it's a small price to pay to have the soft glow of electric sex gleaming in your window.
Now, if you're a little concerned that the leg lamp is a wee bit too quirky of a present, never fear. People really like leg lamps.
For reference, here is what your purchase will look like:
Here are some people who are already killing the leg lamp game (see, I told you it wasn't weird).
Also, if you'd like to see some true Christmas Story dedication, check out this 14-foot-tall (!) leg lamp this guy built in his front yard this year.
Des Moines, Iowa resident Tom Gross told USA Today that he likes "decorating weird stuff."
"It doesn't take long," he said. "Once I get the idea in my head, I can sort of knock it out."
He was a little concerned, though, about keeping the leg upright during "40 mile per hour winds." It looks like he definitely managed to pull it off though, and plenty of passerbys were delighted by the whole thing.
"People have actually been stopping and taking their picture with it," Gross noted. "That makes me feel good."
If all of this is enough to make you want to curl up on a couch, drink some hot chocolate, clutch your red BB gun, and bask in the glow of electric sex and nostalgia — there's more. The classic holiday film is coming back to the small screen this month in the form of a revamped musical titled A Christmas Story Live! The show, premiering on Fox on Dec. 17, will be a merging of the original film and the Tony Award-nominated Broadway show.
Benj Pasek and Justin Paul (from Dear Evan Hansen, La La Land) wrote the songs for the musical, which automatically means the whole thing will be ~fire~. Also, cast members include Matthew Broderick, Jane Krakowski, Maya Rudolph, and Broadway star Chris Diamantopoulos.
For all of you loyal fans terrified of any sort of reboot, never fear. Executive Producer Marc Platt promised viewers that they won't be disappointed. He told Broadway World,
The challenge of adapting something so beloved is to be sure that you be respectful of the original material, and that you are delivering for an audience all the elements that people who love the film need to see to be satisfied. And the same with the musical. You have all these great musical moments and beautiful score to land, but also want to deliver an experience that is unique, that no one has ever experienced before in this new genre of a live television version.
So, basically, this will be the best holiday ever... new musical, leg lamp, and all. We missed you, Ralphie.