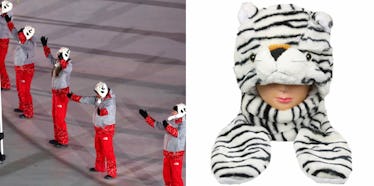 This $13 Accessory Is Taking Over The Olympics & It'll Make You Feel The Glory
Dean Mouhtaropoulos/Getty Images Sport/Getty Images
I had no idea that there was a mascot for the 2018 Winter Olympics until I watched the opening ceremony and wondered why a gaggle of the performers were wearing adorable fuzzy animal hats. Evidently, Soohorang the white tiger is the event's emblematic animal. Where to buy Olympic tiger hats, you ask? I had the same query within seconds of seeing them on my screen. I absolutely need one.
Yes, Soohrang is adorable (much more on that later), but his symbolism is equally as alluring in terms of why I, an adult woman, want to purchase what is essentially a flattened stuffed animal to wear on my head. White tigers have long been considered the guardian animal of Korea. Literally, the animal's name translates to "protection tiger." ("Soohoo" is Korean for protection, while "rang" is derived from the Korean word for tiger, "Ho-rang-i.")
According to the official Olympics website, "Soohorang not only has a dauntless spirit and passion but also is a trustworthy friend who protects the athletes, spectators and all participants in the Olympic Games." Love! If you watched the opening ceremony, you'll also recall seeing a gorgeous white tiger puppet take center stage at the beginning of the show.
Even if I had known about previous Olympic mascots and was aware of their individual symbolism, I'm not sure I would have bought any merch emblazoned with them. These hats, though? I want ten. South Korea has an incredible affinity for making literally anything and everything cute, from stickers to interior design to beauty products. If you're a fan of Korean beauty brand TONYMOLY, which is sold at Urban Outfitters and offers products in the shapes of pandas, bunnies, and more, then you know what I mean. In Japan, this culture of cuteness is called Kawaii.
Taking this mentality into account, it makes total sense that South Korea would outfit opening ceremony performers in plush tiger hats that will make your heart burst. If you watch the ceremony, you'll see a giant circle of people in said hats and red clothing bouncing together in unison as each country made its entrance into the stadium. It's so crazy that in America we largely reserve things that are über cute in this way for children; I love that in the East, adults can openly adore them, too.
So let's all buy Soohorang hats and change the social stigma here on Western soil? As someone who is into EDM, I've certainly seen people at festivals wearing similar animal hats to those worn at the opening ceremony. (I, myself, have borrowed my friend's homemade bear hat for an event or two.)
Although the Olympics aren't selling official Soohorang hats just yet, there are certainly other options that are similar in style that are currently available. If tigers aren't your style, fear not. The hats come with all kinds of ears and in all kinds of colors.
Soohorang #2
As close as you'll get to the original, this white tiger hat makes a good stand-in for Soohorang. Considering it was below freezing at the opening ceremony, the Olympics should have considered adding built-in mittens to theirs, too.
Panda, Panda, Panda
If you're not into the whole plush look, this knit panda hat might be for you. Equally cute, just with less of an I-won-this-at-a-carnival feel.
Beary Pink
In the spirit of Kawaii, I give you the Cheer Bear SpiritHood! Yes, I realize the price tag is a bit steep for an animal hat, but in the world of music festivals SpiritHoods are the shiz. They're super soft, they'll keep you warm, and they're well-made. If you're going to Burning Man this year, check them out.
Back to Black
The fashion girl's answer to animal hats, this black beanie with pom-pom ears is a more subtle option.
Pussy Power
In the era of the pussy hat, why not also opt for a black option? With glow in the dark whiskers, it's a much edgier version to the pink hats that stormed the Women's Marches and beyond.