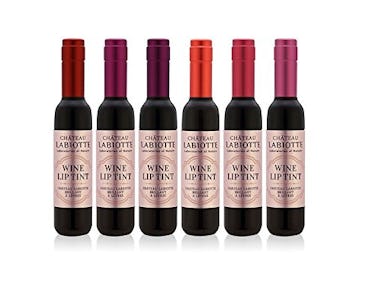 This Wine Bottle Lip Tint Is Only $12 & I Need All The Delectable Colors
Red wine mouth is usually a bad thing – it means that delicious glass of vino you're enjoying has temporarily stained your lips and teeth. A K-Beauty brand, however, is rebranding this ailment and turning it into a coveted beauty product. Here's where to buy Labiotte Wine Lip Tint because it's too mouth-watering to not.
Labiotte falls under the umbrella of coveted K-Beauty (short for Korean beauty) brands that you should know about. Their packaging is off-the-charts adorable and the products themselves are just as gorgeous. Many K-Beauty brands are known for their cutesy, pastel packaging, but Labiotte is going full steam ahead towards the 21 and over crowd.
Labiotte's tagline is "Laboratories of Nature," and the brand uses many natural ingredients in their cosmetics. It's a self-proclaimed "botanic-based brand" and is committed to their many eco-friendly policies. And just as exciting as all that, is the fact that they have an entire line of wine-inpired beauty products, and everything comes in miniature wine bottles!
You can get anything from lip tint and lip balm to mascara and it'll all arrive on your doorstep in the tiniest wine bottle you've ever seen. The only thing missing? Some actual wine to go with it, but that can be fixed.
Chateau Labiotte Wine Lip Tint in Shiraz Red
There's no actual booze in the lip tints (sad), but the colors are inspired by real types of vino.
Chateau Labiotte Wine Lip Tint in Merlot Burgundy
The faux foil on top of each bottle corresponds in color with the gloss inside.
Chateau Labiotte Wine Lip Tint in Rosé Coral
Rosé all day lip tint!
Chateau Labiotte Wine Lip Tint in Chardonnay Orange
Chardonnay is typically not my wine of choice but this beautifully orange-red lip tint has me converted.
Chateau Labiotte Wint Lip Tint in Blush Pink
More pink wine FTW.
Chateau Labiotte Wine Lip Tint in Nebbiolo Red
This luscious deep fuschia color is currently only available in a pack of two, but the only better than one mini wine bottle is having two!
Chateau Labiotte Wine Lip Tint Six Piece Set
Or you can get all six bottles, that's half a case of wine. At $12 per bottle, buying all six would normally come out to $72, so this bundle is a d*mn good deal.
Chateau Labiotte Velvet Wine Lip Tint in Saint Rosé
Not a red wine fan? Labiotte has velvet lip tints in white wine bottle packaging.
There are six shades of the velvet lip tints as well. In addition to the above Saint Rosé, you can wear Swirling Red, Chalon Coral, Rose Orange, Terroir Nude, or Verdot Pink.
Chateau Labiotte Wine Tinted Whip Lip Balm in Red, White, and Rosé
These lip balms are sold separately so you can pick your single drink of choice or go all out and try all three varietals, and they come in mini wine glasses!
Chateau Labiotte Wine Lipstick
There's a traditional bullet-style lipstick as well. It comes in seven different colors, sold for approximately $16 each, or you can get the full box set, including an applicator sponge, for $175.
Chateau Labiotte Wine Angle Mascara
There's more! This Chateau Labiotte mascara comes in the same novelty bottle and you can choose between a volumizing formula or a lash thickening option.
Chateau Labiotte Wine Perfume Bar
There's still more! Labiotte has four different perfume sticks, sold individually for $22 or in a pack of four for $88. The scents are Angel B (rose, lemon, peach, sandal wood), Flomance (rose, musk, cedar wood), Free Pear (peach, lemon, jasmine, rose, patchouli), and Fine Fever (grapefruit, bergamot, jasmine, iris).
Cheers!