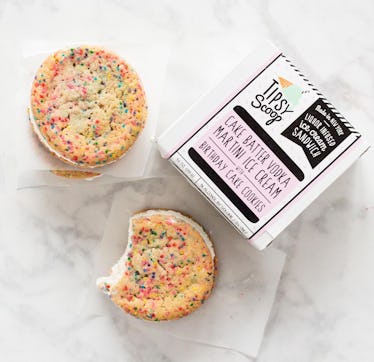 These Boozy Ice Cream Sandwiches Are A New Take On Your Favorite Childhood Snack
Haley D. Williams for Tipsy Scoop
Ah, the good 'ol days. When you were waiting on line in the cafeteria, calling first dibs on the ice cream sandwich — vanilla goodness cushioned between two soft chocolate wafers — was a must. Now, there's a 21+ answer to your elementary school snack, and here's where to buy boozy ice cream sandwiches to spice up your girls' night in.
Tipsy Scoop Barlour — the New York City mastermind behind the ice cream-liquor combination — is putting its own unique spin on a classic item. Sure, vanilla and chocolate are wonderful flavors, but when you have the option of chocolate chip cookies with Frangelico Affogato ice cream or rainbow sprinkle cookies with cake batter vodka martini ice cream, why not indulge? Second grade is over, folks.
These sweet treats are the perfect way to celebrate any occasion, be it a movie night with friends or a homemade dinner with your S.O. You can head to the Manhattan store to pick up a 12-pack of these babies for $60. Not in the Big Apple? Hawaii, Maine, Illinois, Florida, and Massachusetts all sell pints of the brand's flavors in grocery stores, according to Delish. You can also order the treats on Goldbelly, but prepare for a hefty price tag: $119 for a pack of 12. Guess that's another way ice cream has changed since your days on the playground. But when you feast your eyes on one of these delectable desserts, you'll do anything in your power to get a taste for yourself.
Behold, Tipsy Scoop's boozy ice cream sandwich.
There it is in all its Instagram-worthy glory.
"It creates a different dessert experience," Tipsy Scoop's clever founder, Melissa Tavss, tells Elite Daily about her treats. With the opening of her Manhattan store this May, Tavss continues to put a twist on two of people's favorite indulgences. Not only are the scoops delicious, but they're completely worthy of a social media post. "It's very Instagramable and cool," Tavss says (it's like she knows us).
Tipsy Scoop has actually been around for about three years now, however, the treats were only available to cater or to purchase in specialty stores, which was a bit of a bummer. After word got out on social media about the fantastic fusion of alcohol and ice cream, the desserts became in demand... so much so that hungry customers began showing up to the company's production facility in Harlem, according to Tavss. After people traveled great lengths only to discover there wasn't actually an ice cream shop, Tavss thought a store that was "easier to find and more centrally located" was in order.
Now that the shop is up and running, Tavss continues to impress her customers with out-of-this-world offerings. "We're doing limited-edition flavors each month with liquor brands," she tells Elite Daily. To get yourself in the spooky spirit, you're going to want to try a scoop of Candy Corn Vodka Martini, Tequila Mexican Hot Chocolate, Salted Caramel Apple Brandy, and Spiked Spiced Pumpkin Pie. Sorry, the plain ol' PSL can't come to the phone right now; it's dead (and Tipsy Scoop's boozy flavors killed it).
If you're more inclined to get an ice cream sandwich, you're in luck — they've also received the Halloween treatment. "We're currently featuring the Trick or Treat Yo' Self Sandwich pack for Halloween- 12 boozy sandwiches made with double chocolate chunk cookies and Candy Corn Vodka Martini Ice Cream," Tavss tells us.
You'll scream (with delight, of course) when you see Tipsy Scoop's spooktacular Halloween ice cream sandwich.
Customers can also look forward to gingersnap cookies and spiked spiced pumpkin ice cream sandwiches for Thanksgiving. The shop is also thinking about the end of the year, and the sandwiches will be available in holiday flavors such as double chocolate chunk cookies and Candy Cane Martini ice cream. The guy in the red suit will be impressed with the chocolate chip cookies and Santa's Cookies & Whiskey ice cream sammies.
"We love the idea of continuing to reward our customers for their support and love," Tavss says of her seasonal offerings.
We can't wait to see what Tipsy Scoop comes up with next.
Check out the entire Gen Why series and other videos on Facebook and the Bustle app across Apple TV, Roku, and Amazon Fire TV.