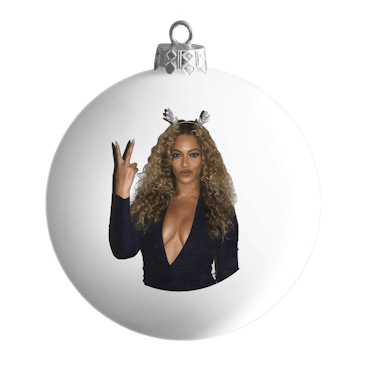 Beyoncé Dropped A Holiday Merch Collection & It'll Have You Saying "Sis The Season"
Everyone put down your laptops and step away from the Black Friday and Cyber Monday deals. You'll need to put your full attention towards a very special holiday collection that is going to make you "sleigh" so hard. I'm sorry, I had to — don't hate me. Beyoncé has launched a new holiday clothing line and it will have you dripping in everything 'Yoncé. Before you go crazy wondering where to buy Beyoncé's holiday merch — take a deep breath; all the details are below. Warning: There is an overwhelming amount of holiday puns coming. You've been warned.
The first thing to take note of is the pricing. When I first heard about the collection, I started tearing up because I could already imagine all the money I was about to spend. However, while some items are a bit on the pricier side, there are some fun pieces that are in most people's price range. Even more surprising, no item is over $100. There are some cute ornaments with Beyoncé's face plastered on them for as low as $12, and full-on Yoncé adult onesie pajamas for $85. Basically, a little bit of everything.
Honestly, deck the halls, sis. Beyoncé has given us the gift that keeps on giving — merchandise. Personally, I could not be more grateful. Below are eight items you'll definitely want to add to your shopping list.
1. Beyoncé Holiday Sweater
These are holiday sweaters because Beyoncé says they're holiday sweaters. What more do you need to know? You can find the black "Beyoncé Holiday Sweatshirt" on Bey's website for $55. The T-shirt is only $35 and comes in white and pink.
2. Holiday Ornaments
Get your "slay" bells ringing with these ornaments. Deck out your tree in Queen Bey for the most Yoncé holiday of all time. At $12 a pop online, I have about a dozen Beyoncé stans on my list that I will be gifting these to.
3. Adult Onesie
If you've never worn a onesie in your adult life — honey, what is you doing? Beyoncé has you covered with adult onesies for $85 each. I promise you have never been cozier. The pajamas (or street clothes, no judgement) come in purple, green, and grey.
4. Rapping Wrapping Paper
This wrapping paper makes no sense to me, but I want it so bad. The connection between revenge and gift giving is a little over my head, but if Beyoncé says it's legit — I'm good with it.
You may think the phrase, "the best revenge is your paper," is about the money in your bank account, but is there better revenge than dope holiday wrapping? I don't think so. Score Beyoncé wrapping paper for $16.
5. Holiday Graphic Sweatshirts
Have the ultimate holidayoncé with any of these sweatshirts. You can easily have a thicc holiday with these prices — the sweatshirts are listed at $55 each and go up to size 2XL.
6. Festive Phone Cases
For $30, Beyoncé phone cases make great gifts... to yourself. OK, and maybe others if you're in a festive mood.
7. Shinin' Ugly Sweater
Beyoncé attempted an "ugly sweater" — her words not mine. Not only is it not ugly, it's not technically a sweater... it's a long sleeve T-shirt.
Although the sweater above will probably never win at an ugly sweater party, it would get nominated for "Most Yoncé." Get your priorities straight — the "Shinin' Ugly Sweater Long Sleeve T-Shirt" is $45.
8. Holidayoncé T-Shirt
The top notch item for the ultimate Beyoncé fan would definitely be this T-shirt. Front and center is a giant picture of Beyoncé, and the back simply says "Holidayoncé." If you're salivating looking at this Queen B meets holiday mashup, it can be yours for $40. Bey in the front, holiday in the back. Win-win.
If Beyoncé's special holiday collection didn't make you feel festive AF, I don't know if I can help you. These items are truly hard to pass up, and will for sure make you the coolest person at any holiday event you enter. Spread some holidayoncé cheer this year.
Check out the entire Gen Why series and other videos on Facebook and the Bustle app across Apple TV, Roku, and Amazon Fire TV.