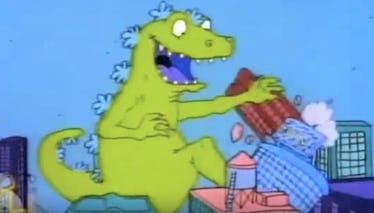 This Inflatable Reptar Costume Will Make Your Halloween Party Nostalgic In The Best Way
OK, you guys, Halloween is officially right around the freaking corner, but don't start stress-eating the fun-sized Snickers bars you bought for the trick-or-treaters just yet. If you're still on the hunt for that perfect costume, '90s nostalgia might have just stepped in to save the day. You might have thought that dressing up as an iconic character from your favorite Nickelodeon cartoon wasn't an option, but it is now. Read on to find out where to buy a Reptar costume, and thank me later when you take first place in the costume contest.
At first, dressing up as Reptar sounds like it would be quite an involved process. Of course, face paint would work to achieve that Reptar-green hue, but there's a good chance that your face is going to start itching about five minutes after you complete the look. Enter the Reptar costume.
According to Cosmopolitan, Think Geek is where you need to go to get your hands on the inflatable Reptar costume. That's right, it's a one-piece costume that looks just like the dinosaur Tommy Pickles loved on Rugrats. The costume is made of 100 percent polyester, and it comes with a fan that blows inside of the costume to keep it inflated. It will cost you $79.99, but that's a small price to pay when costume pretty much does all the work for you. All you have to do is put it on, and you'll be the one getting all the glory.
If you need a little refresher on just how awesome Reptar is, need I remind you of the time when Reptar flawlessly transitioned from the small screen to "Reptar on Ice?" I mean, the dino could sell cereal to adoring toddlers and then go ahead and pull off a perfected double-axel jump, all while being a misunderstood by many. He was so much more than just destroying buildings — although he really could take them down.
But hey, if Tommy, Phil & Lil, and Chuckie all saw something good in him, then it has to be true, right? Surely, they enjoyed him for more than his awesome Reptar cereal commercials. Really, do you need more of a reason to dress up as an inflatable giant green cartoon dinosaur? You'll also get to say, "I am Reptar; hear me roar!" all night long.
Also, just think about a clutch addition this will be to your squad's '90s-theme costume. Nothing legitimizes an Angelica Pickles costume (complete with a creepy AF Cynthia doll) like a complementary Reptar costume.
If everyone in your squad is a fan of this cartoon dinosaur, you can always dress up your whole crew as an entire pack of Reptars. One of you could go as "Reptar on Ice" — it's best to make sure that of the more coordinated pals gets this role. Reserve Reptar from the cereal box for your friend that's always hungry (dibs!), and then your friend who needs to blow off a little steam could go as destructive Reptar.
The best part of dressing up in the Reptar costume is that you have to do very little work. Remember, it's just one piece, and it comes with a fan to keep it inflated. This way, your Reptar crew won't be working up a sweat as the judges count up their votes for the costume contest, so you can play it cool when you go up to accept your first-place prize.
However you decide to incorporate the Reptar Halloween costume into your holiday this year, make sure that you also remember the Reptar bars. You know you wanted them whenever they popped up in an episode, so don't miss out on your chance to finally fulfill your childhood craving.
Check out the entire Gen Why series and other videos on Facebook and the Bustle app across Apple TV, Roku, and Amazon Fire TV.