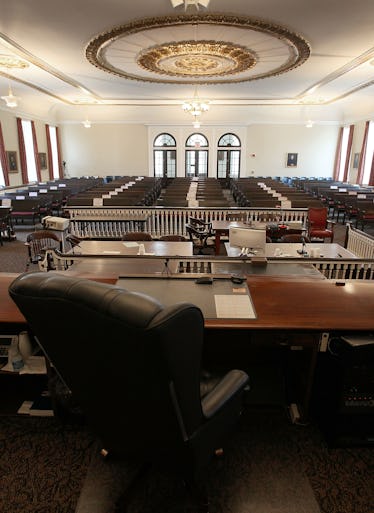 Here's What The Key Witness In The Adnan Syed Case Has Said After 'Serial'
Mark Wilson/Getty Images News/Getty Images
Before becoming the subject of the 2014 podcast, Serial, Adnan Syed was convicted of kidnapping and murdering his ex-girlfriend Hae Min Lee in 2000. During that trial, there was a key witness whose testimony played a heavy hand in convicting Syed. But now that an appeals court has ruled that Syed will get a new trial, it leaves people following the case wondering, where is Jay Wilds? He might be needed back in court soon.
Wilds, a former classmate of Syed, has been relatively under the radar since the 2000 trial that sentenced Syed to life in prison plus 30 years on charges of first-degree murder and kidnapping of his ex-girlfriend Hae Min Lee. Wilds was the star witness for the prosecution, and claimed in court that he helped Syed dispose of Lee's body. Without his testimony, there might not have been a trial at all.
On Serial, host Sarah Koenig honed in on inconsistencies in Wilds' interviews with investigators and his trial testimony. For instance, in Wilds' first interview with the police, he claimed that on the day in question Syed picked him up from his house and they went to Westview Mall. In Wilds' second interview, though, he said they went to Security Square Mall. Koenig tried to speak with Wilds on Serial, but he declined to appear on the podcast. However, Koening did manage to track him down and get him to speak off the record, according to Rolling Stone.
After the success of Serial, however, Wilds gave a single interview to The Intercept in 2014 to say that he thought he had been treated unfairly by the podcast. According to Wilds, his history as a drug dealer affected his first interview with the police and might have contributed to some of the inconsistencies. Wilds claimed that he wasn't willing to cooperate with to the police because of his history with drugs and fear that it would be used against him.
He told The Intercept,
Well first of all, I wasn't openly willing to cooperate with the police. It wasn't until they made it clear they weren't interested in my 'procurement' of pot that I began to open up any. And then I would only give them information pertaining to my interaction with someone or where I was. They had to chase me around before they could corner me to talk to me, and there came a point where I was just sick of talking to them. And they wouldn't stop interviewing me or questioning me. Once the police made it clear that my drug dealing wasn't gonna affect the outcome of what was going on, I became a little bit more transparent.
Wilds also claimed that Syed blackmailed him into disposing of Lee's body by threatening to turn him in to the police. He told The Intercept,
He said, 'You've gotta help me, or I'm gonna tell the cops about you and the weed and all that shit.' And then he popped the trunk and I saw Hae's body.
CNN pointed out that there were inconsistencies between the Intercept interview and the original testimonies. Wilds told The Intercept that he first saw Lee's body outside his grandmother's house, when he claims Syed arrived with it in the trunk. However, Wilds originally told police that he saw Lee's body in the parking lot of a Best Buy near the high school they all went to.
So what does it all mean? Well, Wilds will have another chance to tell his story soon.
On March 29 the Special Court of Appeals in Maryland ruled that Syed was deserving of another trial because his legal team during the 2000 trial that convicted him was ineffective and failed to properly defend him. Syed's original defense failed to contact Syed's former classmate Asia McClain, who claimed she had spoken to Syed at the local library at the time of Lee's killing, thus providing a potential alibi. McClain's testimony was never brought forth in court. The ruling states,
The court concluded that there was a reasonable probability that, but for trial counsel's deficient performance, the result of Syed's trial would have been different.
Because of that Syed will get a new trial on all charges, according to The New York Times. A court date has not been set yet.
We have not heard anything from Wilds since that 2014 interview, but now with Syed's new trial pending, maybe we will hear from him again — real soon.