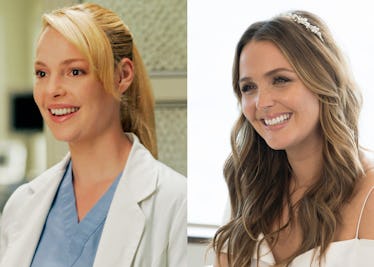 Camilla Luddington Weighs In On What Izzie Would Think Of Her & Alex On 'Grey's Anatomy'
ABC
Izzie Stevens isn't exactly one of the Grey's Anatomy doctors whose absence fans are still mourning today. The actress behind Izzie, Katherine Heigl, left the series partially because of her controversial comments about having insufficient material to work with, and creator Shonda Rhimes has been clear about never revisiting the character again. Before that little scandal, Izzie was married to fellow doctor Alex, who closed Season 14 with his marriage to Jo. Both Heigl and Camilla Luddington are curious about where Alex's first wife would be today, so where is Izzie in the Grey's Anatomy world?
Since her official departure from Grey's Anatomy in 2010, Heigl has shared that she shouldn't have spoken out so boldly about her feelings on the show's quality. Eight years after her exit, her tense relationship with the show seems to have calmed, and now in a starring role on Suits meant to fill Meghan Markle's absence, Heigl is finally talking about where Izzie would be today. The character left Seattle when Alex broke off their marriage in Season 6, and their divorce was handled with Izzie off camera. In the series' 300th episode, Alex even admitted that he didn't know what happened to Izzie but ultimately wished a happy life for her. So, if Rhimes' older declarations against Heigl are any clue, Izzie's whereabouts will always remain vague.
As she told TVLine earlier this summer upon learning of Alex and Jo's marriage, Heigl is just as out of the loop, saying:
Alex needed to find love — true love. I'd have to start wondering where Izzie is. Like, what is she doing? Where did she go? I would hope that she pursued her [medical] career … She could have children by now. She could be married … If she has moved on, then I would expect Izzie to be very happy for him. She would want him to be happy. She'd be jealous [of Jo] for sure, right? She'd want him to hold out for her.
Luddington, who entered the series in Season 9 as Jo Wilson and spent the following seasons portraying Jo's initially rocky relationship with Alex, learned of Heigl's comments at Comic-Con recently. Before you start envisioning the actual characters of Jo and Izzie awkwardly dancing around each other a la the typical old-wife-meets-new-wife trope, Luddington only had love for the idea of Izzie finding a better life elsewhere after leaving Alex behind. She told Us Weekly:
What I imagine is for Izzie is she kind of thinks in terms of how Alex thinks about her. In our 300th episode, he discussed that he hopes she has this amazing life. I hope Izzie is living her best life and she's hoping the best for Alex.
So, in Luddington's eyes, it looks like even Izzie is a Jolex fan. As we all should be, right?
It would take an extremely whacky Grey's Anatomy's dream sequence for fans to see the day that Izzie returns to Grey Sloan Memorial, but it's nice to know that in the depths of the show's universe, Izzie and Jo only want the best for each other. Who's to say that Alex wouldn't arrange a wine date between them someday that's just for kicks? No pressure, Shondaland, but I also wouldn't mind a commemorative montage in the series finale explaining where Izzie has ended up. Fans need a smidge of closure when it comes to long-lost Grey's Anatomy characters.
Season 15 of Grey's Anatomy premieres on Thursday, Sept. 27, at 8 p.m. ET on ABC.