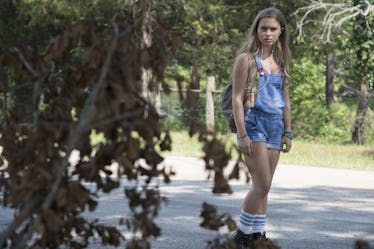 'Sharp Objects' Episode 4 Ends With A Major Cliffhanger, Here's What We Know About Amma
HBO
As much as Camille would like to escape the town of Wind Gap where she grew up, Sharp Objects seems bound and determined to keep her there until the mystery is solved. With a killer on the loose and a wild-child sister who doesn't seem to take the threat seriously, it seems like everyone in town is worried either about Camille and her reporter's notebook or her sister and her rebellious behavior. The latter may be the right call. Where is Amma on Sharp Objects? Warning: Spoilers for Sharp Objects follow.
This week's episode featured Camille taking Detective Willis on a tour of all the terrible places in Wind Gap where crimes were committed. Some are stories from her mother's generation, where a pair of lesbian lovers took their lives. Some are stories from Camille's generation, as it is suggested the "end zone" may have been a place where she was coerced into sex as a teenager. And some are places have been creepy in every generation, like the shed in the woods.
Willis is a sharp enough to recognize Camille has terrible memories of the shed, though the show, in it's usual indirect flashbacks, does not reveal what. (At least not yet.) What Willis reveals to viewers is this shed was a favored hangout of Ann Nash and Natalie Keene. Willis believes they knew their killer, who could have stalked his prey here, waited until one of them arrived at the shed without the other, and killed them.
It's a theory, even though it doesn't entirely fit in with the facts as everyone assumes them. Ann Nash was supposedly taken from her bike, for instance. But no one knows for sure. Camille doubts it when first presented to her too.
But then she finds herself in the bar, talking to Natalie's older brother John Keene about his little sister. Natalie, it turns out was a wild-child herself, and she awakened the wildness is Ann. Natalie and Ann used to try and fight each other on the regular. It was only Camille's sister Amma who kept them from killing each other.
This is news to Camille. Did Amma really hang out with Natalie and Ann? Turns out this wasn't a pair of BFFs, it was a triad, with Amma as the third. Natalie and Ann didn't hang out in the shed by themselves, Amma hung out there too.
The alarm bells start ringing in Camille's head as she races home, hoping her sister is safe. Amma is not there, her bed in untouched. This shouldn't be a surprise to anyone. It's been well established the girl sneaks out after her parents have retired for the night with little regard for her own safety, or there might be a killer on the loose.
Camille is utterly panicked. If Willis' theory is right — and her gut instincts have suddenly clicked into place they very well could be. Amma might have gone out to the shed in the dead of night, to drink, to think, to get away from all of it, only to find the killer lying in wait.