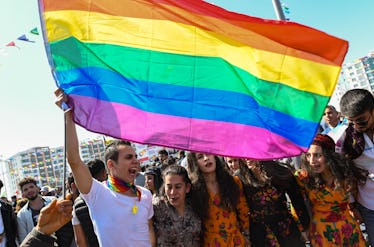 Here's Where To Find Pride Parades Around The Country & Celebrate Love
Burak Kara/Getty Images News/Getty Images
Summer is heating up, and you know what that means: Pride season is upon us. During the year, members of the LGBTQ+ community and allies gather together to celebrate that love is love, no matter your sexuality or gender identity. In case you're asking when and where are the 2019 Pride parades? We've got you covered with a list of events.
June represents Pride month, where people can celebrate the LGBTQ+ community. From June to even October, cities all across the United States host a number of Pride-themed events in order to celebrate the LGBTQ+ community. Of course, the famous Pride parades are perhaps the most anticipated festivities, with people marching in solidarity dressed to nines. From New York to smaller cities like Portland, Oregon, people all across the country can show their support in someway. Not only do these parades have an important message, but let's admit it... they're a ton of fun.
The LGBTQ+ Pride parades don't only take place in the United States, they've become a global phenomenon. Countries such as Guam, Thailand, Belgium, and others also hold their own Pride events. Of course, not all of us can travel to every country to celebrate, but we've rounded up some of the United States' top cities Pride parades that are sure to be some of the biggest events of the year.
It's time to start lacing up those walking shoes, people!