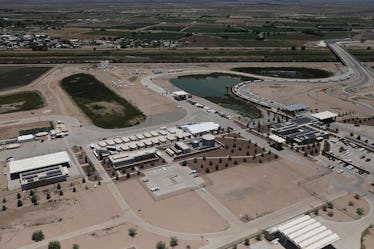 Kids Separated At The Border Are Being Held All Over The U.S. & The Outlook Is Bleak
Joe Raedle/Getty Images News/Getty Images
Concerns have been mushrooming this week about the fate of children who have been detained under President Donald Trump's immigration crackdown. Throughout the week, as the practice of separating families at the border was met with condemnation worldwide, many began asking where the migrant children are being held as a result of the policy. Now, details are emerging as to their whereabouts.
The children have been separated under a new "zero-tolerance" policy rolled out by the Trump administration in early April that prosecutes anyone who enters the country illegally. The policy has led to a rapid uptick in children being separated from their parents, contributing to what is now more than 11,000 unaccompanied minor children in the U.S. The influx has prompted a housing shortage for shelters.
Though Trump reversed course on Thursday, June 21, moving to discontinue the practice of separating families, attention is being turned to where the migrant kids already separated under the policy are located, and what might happen to them next. Per a June 21 report by The New York Times, migrant children are being sent to shelters thousands of miles away in New York, California, Oregon, and Florida. CNN confirmed that children have been transferred to facilities in these states, as well as ones in Michigan, South Carolina, and Virginia. Per the Times, there are about 100 shelters across 17 states in this housing system, initially designed to accommodate children who arrived in the U.S. alone.
In addition to these shelters, the Pentagon says that military bases are now being prepared to house the massive influx of children needing temporary shelter thanks to the new policy. According to a Pentagon memo to Congress obtained by The Associated Press, four military bases will house up to 20,000 children.
More than 2,300 children, as the most recent reports by the Department of Homeland Security (DHS) show, have been separated from their parents since the policy's implementation in early April. As AP reported earlier this week, the Trump administration has set up at least three "tender age" shelters to accommodate the quantity of toddlers and infants who'd been taken from their parents and placed in the custody of U.S. authorities.
Federal prosecution for unauthorized border crossing means that offenders must await the proceedings of a criminal case, and must be held separate of their children while they do so. Because of this, children — many of them under the age of 12 — have to be kept in separate detention centers away from their parents. This is the key difference between Trump's policy and President Barack Obama's policy on immigration; while the Obama administration prosecuted only about 21 percent of cases between 2010 and 2016, per The Washington Post, and made exceptions for those traveling with children to avoid separation, the Trump administration is now enforcing prosecution of all immigrants, no exceptions. As Attorney General Jeff Sessions warned on May 7, about a month after rolling out the policy, families crossing the border illegally would not be exempt from the rule and could expect to be separated.
It's a complicated process to track what happens to a child who arrives in the country without authorization. When someone crosses the border illegally with a child, immigration agencies under the DHS may refer that individual to the Department of Justice (DOJ) for prosecution. If the government decides to pursue a criminal case, as mentioned above, the child must be detained separately of the adult. But by law, they cannot be held in immigration detention facilities for longer than 72 hours. In this case, the child is sent to the Department of Health and Human Services (HHS) Office of Refugee Resettlement (ORR), which also accepts all minors who arrive in the country on their own. Children in this program, in the 2017 fiscal year, were held an average of 41 days before being released to a sponsor (usually a direct relative). Now, that reunification process is taking a lot longer, thanks to the appointment of new ORR director Scotty Lloyd, who requires his approval before releasing children, as Newsweek reported in May. As a result, some children are being held more than a year, according to the New York Civil Liberties Union.
Trump's executive order issued Thursday mandates that families be held together in detention while cases are pending, but the Justice Department clarified that this does not mean it will let up on its prosecution-for-all policy. Additionally, it remains unclear how the administration will reunite families that had already been separated under the policy.