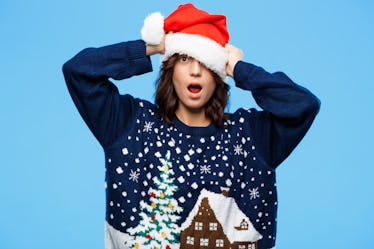 7 Things That Stress You TFO When You're Single During The Holidays
Christmas carols are slowly making a comeback, and as you're humming "Jingle Bells" in the comfort of your bed, you turn over to the other side for a duet, and it's empty. Damn, not even an uplifting, jolly song can rid you of your singleness. When you're single during the holidays, some things inevitably stress you the heck out.
It seems like strangers come out of the woodwork just to gallivant the streets holding hands during the holidays, and the closest thing you have to warmth are the gloves your BFF bought you last year. What the hell do you do? For anyone who is single during the holidays, stress doesn't even begin to describe the way every Christmas tree or sweater can turn from festive to downright ho-ho-horrible.
Most likely, no one deliberately plans to be single during the holidays, but it certainly ignites mini anxiety spells about the smallest things. We get it, the holidays are about gratitude and selflessness, but can't Santa just send us someone to practice all of those things with during the holidays? We promise we will be good.
Even though you'll be making an endless amount of fun plans with friends and family throughout the holiday season, you still have to deal with several annoyances. If your relationship status isn't as lit as your Christmas tree this year, you've probably already felt these few stresses plague your single situation.