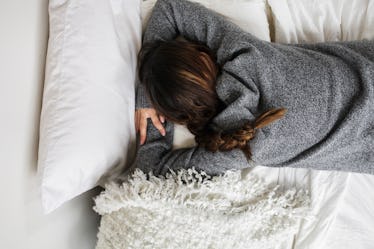 If You're A Light Sleeper, These 5 Struggles Are All Too Real
If you're a light sleeper, you know that the struggle of getting a comfortable night's sleep is all too real. It's just another night of waking up every couple hours, and another morning when you wake up (once again) from even the slightest sound. If you're a light sleeper, I totally feel you. There's nothing quite like going to sleep absolutely exhausted, only to wake up to the soft sound of footsteps in the hall, or your roommate snoring two rooms away. Seriously though, we can't catch a break! It's safe to say that when you're a light sleeper, the struggles are far and wide — but you're not alone.
I know that we are a very large bunch of people. I only know a few deep sleepers, and I've got to admit that I'm pretty jealous of their sleeping schedule. Oh, what it must be like to have a sound sleep and not be interrupted by the wind outside! Meanwhile, light sleepers go through a seven-step sleep process to ensure they'll get some restful snooze time. I'm telling you, it's truly unfair.
Anyway, if you're a light sleeper, there are just some struggles you know you'll always have to deal with, hands down. At least there are others to share the pain with, you know? These five things affect light sleepers across the board, and will have you saying, "same."