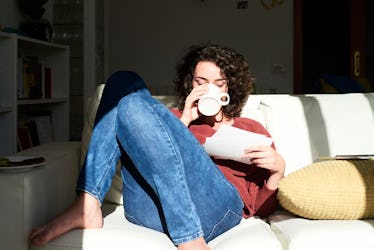 If You're A Hardcore Coffee Snob, You Can Relate To These 10 Things
Does the word "coffee" make your heart skip a beat, no matter what time of day it is? Without coffee, you couldn't espresso yourself (Literally!) because you don't know who you are without the delicious ingredients that make up your perfect cup of Joe. When you're a coffee snob, you not only have your caffeinated drink down to a science, but you're the subject of the whispers among the baristas at your favorite coffee shop.
Don't take the "snob" portion the wrong way; you are picky about your caffeinated beverage, and that's totally OK. You're the person taste-testing before you leave the coffee shop, and know that an ill-prepared coffee is a complete and utter tragedy. You even have your go-to barista who makes your drink, because they already know not to forget that extra pump of vanilla. Last time, that pump-less drink almost ruined your entire day until you made an impromptu coffee run at lunch. Yes, you actually ran.
There's no telling how you got this way, but if you are nothing else, you're an advocate for great coffee. If you're laughing between sips of your coffee while reading this, I've described you pretty accurately and there's no way you won't relate to these 10 things.