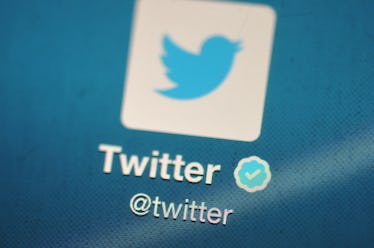 Twitter's "Save For Later" Feature Will Let You Bookmark Tweets Without Actually "Liking" Them
Bethany Clarke/Getty Images News/Getty Images
If you have a Twitter account, you know just how entertaining the social media platform can be. You can spend countless minutes at a time scrolling on your feed to see what is going on in the world. When you finally come across an entertaining tweet thread, there is no way you can focus on any other tweets. When that happens, you might loose out on the traction of a viral tweet and experience FOMO when you hear everyone talking about it. Twitter's newest feature will make sure you never miss out on a viral hit again. The "Save For Later" feature is the newest improvement to Twitter's already impressive site. Twitter's "Save For Later" feature will be available pretty soon, so get ready to always be informed.
Tech Crunch reports that Twitter is working on launching a bookmarking feature that will allow users to save Tweets so they can read them later. The Save For Later feature will save the tweets you want to go back to in a separate list so you can revisit them when you are ready. The announcement came the only way a Twitter announcement would: Via a tweet from Twitter head of product, Keith Coleman, during HackWeek.
Apparently, a bookmarking feature on Twitter was one of the most popular request among users, especially those in Japan. Twitter employee Jesar Shah took to her account to share more details about the upcoming feature.
Like the GIF above shows, the prototype Twitter is working on will allow users to bookmark tweets by clicking an ellipsis — found on the bottom, right-hand corner of a tweet — and selecting "add to bookmarks." This prototype is subject to change, as it is only a first draft of what the feature will look like.
Twitter is looking for your feedback and input on how to make the feature work better for everyone. If you have any ideas, you can share your pitch on Twitter by using #SaveForLater. Some users have already started pitching and have offered some pretty useful ideas.
"This would be great! Especially if we could move existing Likes to Bookmarks in bulk"
"Have you folks considered adding the bookmark option next to like or DM? Some may find a one-tap solution more useful. Could be optional."
"Put it next to DM button or somewhere visible on tweet. In profile remove "likes" tab and put "save" tab and make it private."
Currently, there are a few ways you can save tweets for later enjoyment by favoriting, retweeting, copying the link and sending it to yourself via text, email, or DM, etc. The possibilities of saving tweets are truly endless, but the save for later feature will let you keep informative tweets organized in one place.
Other sites have also adopted bookmarking features to make saving certain posts a lot easier. Instagram recently added a bookmarking feature that allows users to save pictures and videos from their favorite accounts. That feature came in handy for me, anytime I see a fun recipe video on IG, I can just save and never use it because instead of cooking, I'll order take out.
Facebook also let's it's users save links or articles, videos, and pictures they come across while scrolling on FB. As far as Twitter is concerned, we can be expecting to use their save for later feature very soon, Tech Crunch reports. If you want the latest details, make sure you follow jesarshah on Twitter and check out #SaveForLater, for the latest updates.
Check out the entire Gen Why series and other videos on Facebook and the Bustle app across Apple TV, Roku, and Amazon Fire TV.