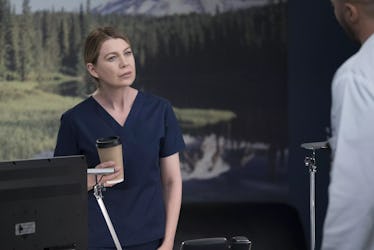 Ellen Pompeo Reveals She's Ready To Leave 'Grey's Anatomy' Sooner Than You Think
ABC
Grey's Anatomy is about to kick off its 15th year of hunky doctors, medical trauma, and heartfelt Meredith Grey monologues. The ultimate conclusion of the series is nowhere in sight, but all good things have to come to an end eventually. Creator Shonda Rhimes has previously confirmed that the show won't continue without leading lady Ellen Pompeo, so when will Grey's Anatomy end? Pompeo has hinted that she may just have two more years of the drama in store.
Earlier this year, Pompeo signed a two-year deal with Grey's Anatomy, making her the highest-paid actress on television. Although ABC hasn't officially renewed the series for a sixteenth season, Pompeo's deal covers both Seasons 15 and 16, which essentially means that we can expect another year of the show in the 2019-2020 TV season. Pompeo is one of only four original cast members still on the series, and as with any other characters, it's tricky to say if these colleagues will make it to the series finale alive alongside Pompeo.
However, based on what the leading actress has shared about her future on the show, fellow original actors Chandra Wilson, James Pickens Jr., and Justin Chambers might as well stick it out until the end. Speaking to Entertainment Weekly, Pompeo revealed that it might not be long before she hangs up her scrubs permanently. She told the magazine:
I'm clearly not prepared right now to make any formal announcement about my future on the show. That's something that Shonda Rhimes and I will do together. But I'm feeling like we have told the majority of the stories that we can tell... I'm feeling like we're coming to the end of the stories that we've told and that we can tell. I'm really excited to do some new things, it's about time that I mix it up and I'm really excited about my producing career, and I'm definitely looking for a change.
With Meredith due to find love again in Season 15, a final season exploring the continuation of this love story is definitely necessary. It would be a perfect Grey's Anatomy move for the series to end with a wedding, but such a decision would be even more fitting if it's the show's star tying the knot. Rhimes has confessed that she's rewritten the series ending several times over the years. Also speaking to EW, she said about the series, "Every time, I thought, 'This is how the show should end,' We've gone past those moments, so I've stopped trying. I have no idea now."
The details of a finale episode seem unpredictable even for the show's creative team, but with Pompeo now in a producer role on Grey's Anatomy, she ought to have a say in how Meredith says goodbye. She might be considering when the end will approach, but Pompeo definitely isn't analyzing the possibilities too much, telling Entertainment Tonight, "We're starting to think about how you would end a show this iconic... But we're not there yet. We're going to focus on season 15. We just take it one season at a time."
It's hard to imagine TV without Grey's Anatomy, but as long as Pompeo and Rhimes give this character an emotional, sweet sendoff, we certainly can't complain about how long we've gotten to watch Meredith grow. Season 15 of Grey's Anatomy premieres on Thursday, Sept. 27, at 8 p.m. ET in a two-hour episode on ABC.