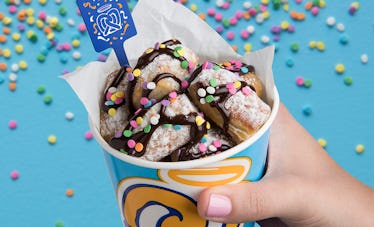 Auntie Anne's Birthday Cake Pretzel Nuggets Are About To Outshine Halloween Candy
Auntie Anne's
Auntie Anne's enthusiasts probably remember when the company underwent its Pretzel Nation Creation contest in June 2018 (I know I do). The contest — which ran from June 18 to June 25 — helped determine which sweet flavor Auntie Anne's would release in honor of its 30th birthday. The competition was stiff, but "Birthday Cake" came out on top as the winning flavor. As soon as the delicious winner was announced over the summer, I couldn't help but ask myself, "When will Auntie Anne's Birthday Cake Pretzel Nuggets be available?" Believe it or not, my question has finally been answered. Let's just say the new treat is about to outshine your Halloween candy.
I'm not kidding: Auntie Anne's Birthday Cake Pretzel Nuggets will be available on Oct. 22, according to a press release provided to Elite Daily. Can you believe it? As someone who's been keeping a close eye on Auntie Anne's new selections, I feel like time really flew. Since the celebratory flavor will be here in time for Halloween, I think I'll swap my candy out for a bucket of Birthday Cake Pretzel Nuggets. I mean, they seem sweeter (and a lot more filling) than the typical chocolate bars and candy corn I'd devour in October.
See what I mean? A handful of Auntie Anne's Birthday Cake Pretzel Nuggets might as well be a handful of candy. According to a press release, the new pretzels are dusted with vanilla and "drizzled with chocolate syrup." Then, they're topped off with brightly-colored confetti sprinkles to really give 'em that "birthday cake" aesthetic. The selection seems perfect for pretzel lovers with a sweet tooth (like me).
Gosh, guys. I'm so excited about these Birthday Cake Pretzel Nuggets that I'd like to take give Auntie Anne's a special shoutout:
OK, now that I've gotten that out of my system, let's talk more about Auntie Anne's 30th year. Marcel Nahm, Auntie Anne's Vice President of Marketing, talked about the company's birthday celebrations in a press release. He said,
We've been celebrating our birthday milestone with ours fans all year. We hosted a Free Pretzel Party at all of our stores nationwide after more than 1 million guests RSVP'd, launched the stylish 'For the Love of Pretzels' clothing and accessories collection, and then called on our fans to choose a new birthday-inspired pretzel flavor. Birthday Cake Pretzel Nuggets are the perfect culmination to this celebration, our tasty gift to pretzel lovers everywhere.
As you can see, the release of Birthday Cake Pretzel Nuggets isn't the only way Auntie Anne's is celebrating its birthday. However, it is the tastiest — and tons of people can agree. In fact, fans chose Birthday Cake over other sweet flavors included in the Pretzel Nation Creation contest that took place in June 2018. Those flavors included Red Velvet Cheesecake, Tiramisu, Cookies & Cream, Chocolate Coconut, Lemonade Cake, Pineapple Upside Down Cake, Chocolate Covered Cherry, Cotton Candy, and Caramel Apple Crème Brûlée. According to a press release, Apple Crème Brûlée lost to Birthday Cake by 662 votes.
Those of you who voted for the birthday-inspired flavor can finally snack on Birthday Cake Pretzel Nuggets on Oct. 22. They'll only be available for a limited time, so get them while you can.