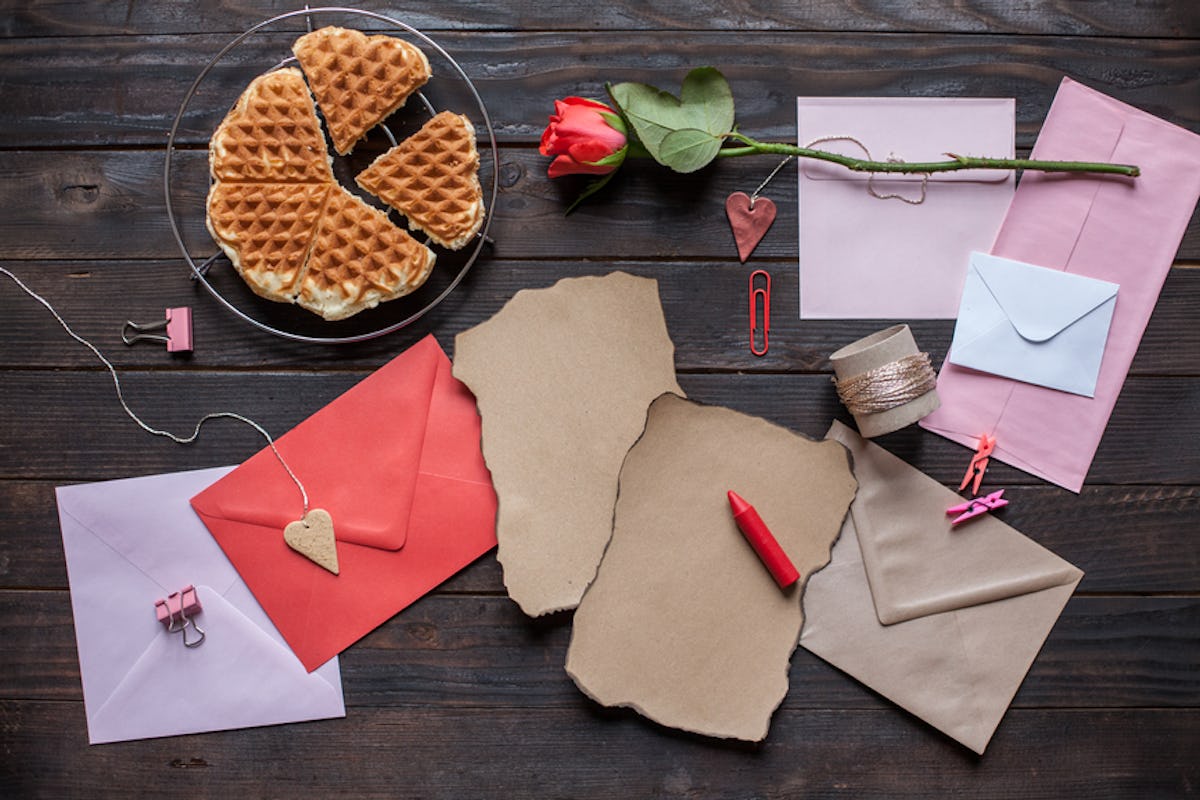 When To Order Your Valentine's Day Gift By, Depending On How Last-Minute You Wanna Get
In the world of same-day shipping and drone deliveries, it's all too easy to forget that ordering gifts take time. But allow me to remind you, friends — it does, indeed, take time. Especially when you're buying and sending a gift for Valentine's Day! Wondering when to buy your Valentine's Day gift by? I've broken it all down below.
First and foremost, don't forget that figuring out what to get someone for Valentine's Day — a process I lovingly refer to as "gift ideation" — is not as quick and easy as it seems. But once you've figured out exactly what to get your partner for the big V-Day, get to ordering, guys! As soon as February hits, the cost of traditional gifts, like roses and fancy chocolates, will skyrocket (trust me, I learned all about in my high school economics class). And if you're opting to give a less traditional present, potentially even something custom-designed, you'll need even more lead time. Really, the sooner you order, the better.
If you're still scrambling and trying to establish a clear gift-buying timeline (or wondering just how last-minute you can go), here's everything you need to know — from the time constraints of personalized presents to international shipping challenges.
If you're ordering a custom gift.
If you've got a genius idea for a custom gift (have I mentioned that my sister got me a watercolor portrait of my dog for Christmas?), definitely don't wait until Feb. 12 to place your order.
Browse through different Etsy shops to get a feel for how much time a boutique or artist will need to customize your order — as they're all different — but aim to order your gift two to three weeks before V-Day (i.e. right now).
If your bae lives abroad.
I've been living in Europe for about 10 months now, and I still have zero idea how international snail mail works. I've sent letters that arrive in lightning speed and packages that take actual months to get to their destination. It makes no sense, and usually costs an arm and a leg to send (especially if you're sending it express).
If you're mailing a package abroad from the states, you've got a handful of shipping options. The cheapest (if you're sending more than an envelope) is Priority Mail International®, which arrives in six to 10 business days, while the most expensive option is Global Express Guaranteed®, which arrives in one to three business days. Prices and timelines vary based on where you're sending the gift to and from, but the USPS lays it all out on their website.
With that in mind, definitely give yourself plenty of shipping time if your bae's studying or living abroad and you're mailing their Valentine's Day gift across the ocean (so, again, I'd order like now).
If you're panicking about the time constraint and cost, might I recommend ordering online from a retailer, florist, or bakery in their current city? It's the easiest way to ensure your gift makes it in a timely fashion, and allows you to give the types of gifts that wouldn't survive a trip across the ocean, like flowers and cupcakes. Same rule applies to long-distance, domestic relationships, too.
If you're all about that Prime life.
If you're ordering your SO's gift through Amazon Prime, then you probably already know there's no need to order a gift weeks in advance. I mean, I ordered a laptop case yesterday morning and it was waiting in my lobby by the afternoon. It's actual wizardry.
That said, if you know exactly what you plan on ordering, just order it! You never know when something might suddenly run out of stock or get lost in the post (unlikely, but it happens). And if you're like me, the "But I've got loads of time!" to order excuse might mean that you end up ordering at midnight the day of your gift exchange and nervously pacing around your apartment until that package arrives.
If you're down to splurge on overnight delivery.
So, I don't know that I've ever splurged on overnight delivery for a gift (what am I, a king?), but if you're down to drop some serious cash on shipping costs — like, more than 50 bucks kind of cash — then no need to worry about sending that gift until Feb. 13, guys! Just know that the post office will likely be lit that day, so don't think that stopping by five minutes before they close will work. It will not.
Oh, and if you wake up on Valentine's Day in a cold sweat, having forgotten to get a gift entirely, just sprint to your local bakery and just buy that place out.
Check out the entire Gen Why series and other videos on Facebook and the Bustle app across Apple TV, Roku, and Amazon Fire TV.
Check out the "Best of Elite Daily" stream in the Bustle App for more stories just like this!