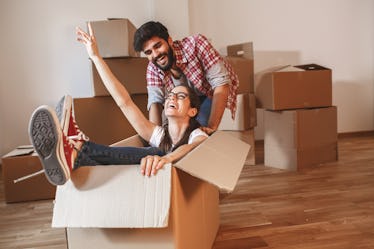 8 Women Share The Legit Reasons Why They Moved In With Their Partners
Shutterstock
Relationships are full of steps. And one of those many steps is the decision to move in with each other. But when are you supposed to do that? In other words, when is the right time to move in with your partner? Well, in a recent Reddit AskWomen thread ladies explored that question by sharing all the deets on when they decided to move in with their partners.
After reading their responses, one thing becomes super clear: the question of when you should move in with your partner really boils down to the reasoning behind the move. As nice as it would be for rule-followers, like myself, to have a hard and fast number of requisite months or years to wait before it's "time" to move in with our partners, that's just blatantly not the case.
As you read the responses below, you'll see that every single one of these women had different reasons for moving in with their partners. They also each wound up moving in with their partners after vastly different amounts of time dating. But no one woman's reasoning is more valid than another's, and that's what's so beautiful here. While their stories are totally different, all of these women all chose to move in with their partners at the time that felt right for them.