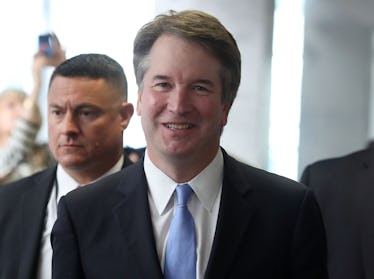 Brett Kavanaugh's Supreme Court Confirmation Hearing Is Coming Up Quick
Mark Wilson/Getty Images News/Getty Images
After Supreme Court Justice Anthony Kennedy announced his retirement in June, the country waited for the big reveal: who will President Donald Trump pick to replace him? On July 9, that question was answered when the president tapped Judge Brett Kavanaugh of the United States Court of Appeals for the District of Columbia Circuit. So when is Brett Kavanaugh's confirmation hearing? He's not on the Supreme Court bench yet.
Trump might want Kavanaugh to replace Kennedy, but he doesn't have the final say. Before Kavanaugh can take the bench, the Senate first has to confirm him. Sen. Chuck Grassley (R-IA), the chairman of the Senate Judiciary Committee which will oversee the hearings, announced on Friday, Aug. 10 that Kavanaugh's Supreme Court nomination hearings will begin on Tuesday, Sept. 4 and could go on for around four days, according to Time. The hearings will begin with opening statements and the next day senators will begin their line of questioning, culminating in testimony from Kavanaugh's associates, legal experts, and members of the American Bar Association. Following the hearing, the Senate Judiciary Committee will vote on him and pass on a recommendation — good, bad, or neutral — to the Senate at large. From there, a simple majority vote is required to put Kavanaugh on the bench.
Grassley said per Time that Kavanaugh is "one of the most respected jurists" and he has already met with "senators who have nothing but positive things to say." He said,
Judge Kavanaugh is one of the most respected jurists in the country and one of the most qualified nominees ever to be considered by the Senate for a seat on our highest court. He's a mainstream judge. He has a record of judicial independence and applying the law as it is written. He's met with dozens of senators who have nothing but positive things to say.
Grassley might champion Kavanaugh as an ideal choice for the Supreme Court, but not everyone shares that sentiment. Senate Democrats, for example, are not happy about the timing of these hearings. On Aug. 8, Democrats on the Senate Judiciary Committee filed several Freedom of Information Act (FOIA) requests for records on Kavanaugh's time in the White House under George W. Bush, according to CNN, records which have become a sticking point for Democrats. Sen. Dianne Feinstein of California, the ranking member of the Senate Judiciary Committee said, per Time,
Scheduling a hearing in early September, while more than 99 percent of Kavanaugh's records are still unavailable, is not only unprecedented but a new low in Republican efforts to stack the courts.
As soon as Kennedy announced his retirement, Senate Democrats cited precedent to declare that no confirmation should be made until after the 2018 elections. During the 2016 election, Senate Republicans wouldn't grant a confirmation hearing to Judge Merrick Garland, who was President Barack Obama's pick to replace the late Justice Antonin Scalia on the SCOTUS bench. In a speech on June 27, Senate Minority Leader Chuck Schumer brought up Garland and said that no SCOTUS pick should be considered during an election year, according to CNBC. Schumer said,
Our Republican colleagues in the Senate should follow the rule they set in 2016 — not to consider a Supreme Court justice in an election year. [Senate Majority Leader] McConnell would tell anyone who listened that the Senate had the right to advise and consent. And that was every bit as important as the president's right to nominate.
But hearing or no, there's still a chance Kavanaugh might not pass. In order to be approved to the Supreme Court bench, he needs a majority vote in the Senate. Right now Republicans hold the Senate with a slim margin, which means that every Democrat as well as two Republicans would have to vote against Kavanaugh in order for his nomination to fail.
No matter how the hearing goes, it looks like Kavanaugh will have a complicated path to the bench. But there's still a little time to keep calling your senator about how they'll vote — it's not over yet.