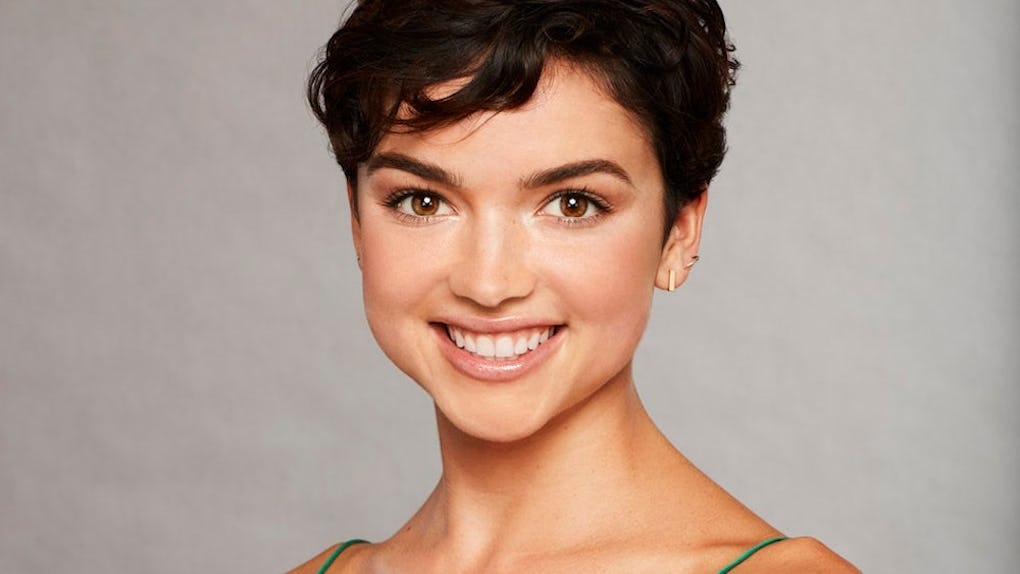 ABC/Chris Sjodin
When Is Bekah M. Due? Here's Everything The 'Bachelor' Alum Has Said About Her Pregnancy
Bachelor alum Bekah Martinez quickly became a franchise favorite throughout her time on Arie's season. The now 23-year-old proved to be spirited, funny, and refreshingly honest before getting eliminated on week 7 of Season 22. Those qualities continue to shine outside of her reality TV stint, and it appears she's also taking a candid approach when it comes to discussing a major milestone in her life: her pregnancy. Bekah opened up about all things baby following Sept. 11 announcement that she's expecting. So, when is Bekah M. due? She's already shared that and more with fans.
According to Bekah's interview with PureWow, Bekah is expecting her first child in January of 2019 — she's currently 20 weeks along. She and her boyfriend of seven months, Graytson Leonard, discovered they had a little one on the way not long after she became pregnant.
Bekah went into more detail about her pregnancy in a YouTube video that clocks in at just over six minutes. The clip not only confirms that she's expecting, it chronicles her experience thus far and gets real about her feelings — even her fears and hesitations.
"The realer it becomes, the more visible the signs become," Grayston notes in the couple's joint interview showcased in the video.
"I just wasn't thinking about any of that practical and logical stuff," Bekah revealed of her reaction to the pregnancy as opposed to Grayston's. "I wanted to be a mom my whole life, like this is what I've always wanted. And I don't care what the circumstances are. This is gonna work. This is my baby and that's kind of how I felt from the start."
Bekah additionally divulged to PureWow that although the pregnancy has brought her and Grayston infinitely closer in a short period of time, they have no plans to tie the knot soon.
"The last thing we need is to consider another commitment on top of what we're already going through…Regardless, we're bound together by sharing this little life," she explained to the publication.
If you're wondering if more Bachelor shows are in the cards for Bekah, she doesn't seem to be going in that direction again. Even though she's left that world behind, the friendships she's created in it look like lasting ones.
"Congratulations to my little mama and papa Gray!! Can't wait to meet your beautiful bundle of joy 👶🏻✨ I couldn't think of a more nurturing, strong spirit," Kendall Long (who just completed Season 5 of Bachelor in Paradise) captioned an adorable Instagram photo of her Bekah. Bekah opted out of BIP for obvious reasons, though she was expected to compete due to her Bachelor popularity. She chalked her absence up to her new relationship but since admitted she was also aware of her pregnancy when she neglected to sign on.
Sienne Fleming, another fellow competitor of Bekah's from Arie's season, additionally shared a sweet snap of her alongside Bekah's bump.
"I'm gonna be an auntie again!!!," she gushed.
It appears Bekah will continue to document her pregnancy journey on YouTube. The end of her first video teases that "Being Bekah" is slated to launch in fall of 2018. Bachelor Nation will definitely be watching.