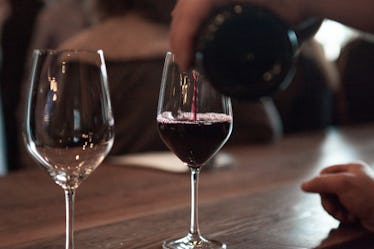 Cold Brew Coffee-Infused Red Wine Is Finally Coming & Here's When To Get It
If you're in tune with the world of beverages, there's a good chance you've heard about Apothic Wine's latest creation, Apothic Brew. Amidst the popularity spike in cold brew coffee, the wine company that we've all come to know and love decided to create none other than a coffee-infused wine. And I don't know about you, but I really could not be happier after hearing this. So if you happen to be wondering when Apothic's cold brew-infused red wine will be available, don't worry, because it'll most likely be sold at your local wine store very soon.
Apothic Wine's latest and greatest creation, Apothic Brew, was essentially created by infusing wine with cold brew coffee, according to an online press release. It's so simple, but it legitimately sounds phenomenal. I'm not entirely sure how (or why) this is the first time I've ever heard of a company coming up with this magical creation, but honestly, I'm overjoyed. The press release reports that the wait actually is almost over, because cold brew-infused wine will — at last — be available in limited quantities nationwide in April 2018. And you know what they say... April (coffee-infused wine) showers bring May flowers. Right?
With the release just weeks away, I'm already finalizing my April Fool's Day plans. And if you weren't entirely sure, all of my plans solely revolve around drinking Apothic Brew... while almost none of them have anything to do with the fact that it's April Fool's Day. I'll be starting off the day on my rooftop enjoying some bagels and Apothic Brew (because hey, I'm a bagels and coffee kind of gal), which will be followed by whipping out some chocolate to pair with my coffee-infused red wine (because that sounds phenomenal). Then, I'll probably end the day by eating some pasta to soak up all of the wine (and also because wine and pasta is is the best combination on the planet).
According to Cosmopolitan, Apothic experts said that Apothic Brew is completely versatile, and that it actually pairs well with anything from meat to chocolatey desserts. TBH, I can totally see that being true, because red wine and coffee are both seriously diverse.
If you're not entirely sure where you'll be actually able to pick up a bottle of Apothic Brew when it's finally released, there are several places you'll be able to seek it out. Apothic's online store locator will allow you to enter your zip code, and it'll help you find stores near you that are currently selling it. Since a ton of wine and liquor stores sell Apothic right by my Brooklyn apartment, I know I'll be able to get my hands on some as soon as I can. However, if you're worried because you know that Apothic Brew isn't sold at any stores near you, make sure to check The Barrel Room. Apothic's website says that The Barrel Room will definitely be selling it — and if you order it from there you can have it shipped to your house. Honestly, I might just do that anyway, because having wine brought to my doorstep sounds really, really ideal right now.
Brunching, wining, dining, and merely living is going to get substantially more lit after this lovely creation is finally sold in stores — and if you couldn't already tell, I am so thrilled. Even though I haven't gotten the chance to try it just yet, I can pretty much already taste it, and boy, is it divine. I can also already tell that my plans with my first bottle are going to be absolutely marvelous, so "cheers" to its upcoming debut.