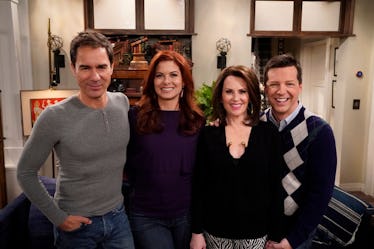 The 'Will & Grace' Revival Is Getting A Second Season & Fans Are Flipping Out
Chris Haston/NBC
It's hard to believe that Season 9 of Will & Grace is already coming to an end. Doesn't it seem like it was just yesterday that the gang reunited in September for the revival? After a hilarious season of relationship drama, fresh starts, and great guest spots, the second half of the two-part Season 9 finale is airing on Thursday, April 5. And now that the finale is here, I have one question: when does Will & Grace Season 10 premiere? I can only re-watch Season 9 so many times over the summer before I start getting desperate for new episodes.
Will & Grace fans, things are looking good: NBC has complete confidence that audiences want more Debra Messing (Grace) and Eric McCormack (Will), so the network OK'd a Season 10 before Season 9 even premiered. Originally, Season 10 of Will & Grace was set to have 13 episodes, but in mid-March, NBC added five more episodes to the season, bringing the total up to 18 episodes. The same day, NBC approved a Season 11 of Will & Grace, also with 18 episodes, ensuring that fans of the series will have plenty of episodes to binge watch for a long, long time.
While there's no set date for the Will & Grace Season 10 premiere, it's safe to assume that the first episode will air sometime in September with NBC's other comedies. Season 9 premiered on Thursday, Sept. 28, 2017 (it anchored the Must See TV Thursday lineup), so if the network keeps the show in the same time slot, it's possible that Season 10 will premiere on Thursday, Sept. 27, 2018. I'm no betting woman, but Deadline reports that Will & Grace is NBC's most watched primetime comedy, so it seems pretty likely that the network will keep the sitcom in the 9 p.m. Thursday slot.
NBC was clearly confident in the revival (you don't approve a second season before the first premieres if you're not confident), but now that the amazing ratings are in, the network is really throwing their weight behind the show. When NBC first announced the additional five episodes in Season 10 and the 18 episodes in Season 11, entertainment chairman Robert Greenblatt expressed his gratitude to the cast and crew for committing to the revival:
As far as I'm concerned, we can't get enough of Will & Grace, and 23 more episodes is music to my ears. We're eternally grateful that Debra, Eric, Sean and Megan feel the same way and wanted to keep this good thing going. I'm overwhelmed by the euphoric response the new show has received from the press and the audience.
And "euphoric" is exactly how fans feel about the Will & Grace revival getting a second (and third!) season.
Maybe I'm getting ahead of myself with all this great news. Before fans get to the Season 10 premiere, we have to get through the second part of the Season 9 finale, which promises to be equal parts hilarious and unsettling. Here's NBC's official description:
Grace's father and Will's mother end up making a surprising and upsetting connection. Jack rebounds from his breakup with a new love. Karen must decide between her husband and her lover. Robert Klein, Blythe Danner, Alec Baldwin, and Brian Jordan Alvarez guest star.
In Part 1 of the finale, which aired on March 29, Jack (Sean Hayes), crushed over his breakup with Drew (Ryan Pinkston), runs to Karen (Megan Mullally) for comfort but ends up walking in on her secret relationship with Malcolm (Alec Baldwin). Meanwhile, in upstate New York, Grace convinces her father to sell his house, and he decides to move in with his daughter and Will. After a dramatic "To Be Continued" title card ended Part 1, Part 2 will pick up right where it left off — with each of the characters in a complete state of transition. The stakes are high for the core four in the Season 9 finale, but if a decade of Will & Grace has taught us anything, it's to expect the unexpected (and a good dose of classic sitcom humor).
The Will & Grace Season 9 finale airs at 9 p.m. ET Thursday, April 5 on NBC.