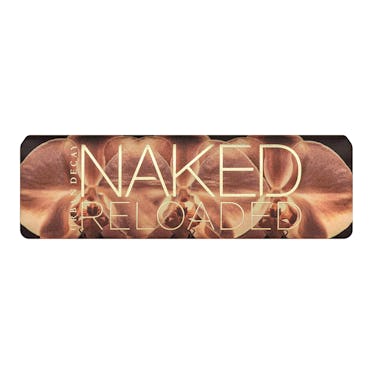 Stop Missing Urban Decay's OG NAKED Palette, Because The NAKED Reloaded Palette Is Almost Here
Courtesy of Urban Decay
Remember back in 2018 when Urban Decay broke the hearts of beauty lovers everywhere by announcing that they would be discontinuing their original NAKED Palette? If that news made you upset, then it's time to cheer up, because the brand just announced that they're relaunching the OG neutral palette. Urban Decay's new Naked palette, NAKED Reloaded, is almost here to reclaim its dominance as the neutral eyeshadow palette on the market in a pretty major — albeit slightly shady — way.
The revamped 12-pan palette retails for $44 and will be available on Urban Decay's website on Feb. 18, and in-store and online at Sephora, Ulta, and Macy's on March 7. However, on Feb. 10, lucky UD lovers who live in L.A. were lucky enough to swing early access to the palette via a NAKED Palette vending machine that was set up at The Grove in Los Angeles.
That's right, L.A. residents had the opportunity to cop the palette from a vending machine before it even launched. But there was a catch. (Here comes the slightly shady, but oh-so-major part.) To really reclaim UD's title as the brand with the most revered neutral palette on the market, the vending machine only accepted other brands' neutral palettes as currency. This meant, you simply had to drop an old neutral palette from another brand into the machine and out came the brand new NAKED Reloaded — no cash or card needed.
In case you forgot, when the original NAKED Palette first launched, it triggered a major neutral palette trend in the beauty market. So now that it's back (and better than ever), accepting other palettes as currency was likely UD's way of saying that NAKED Reloaded is the only neutral palette you'll ever need.
However, if you don't live in L.A. or you weren't able to swing that trip to the Grove, but still want to receive the palette early, UD will be giving out 10 palettes to UD's biggest fans throughout the rest of the country, according to a press release from the brand. Stay tuned for updates from Urban Decay's Instagram.
And now for the best part: the palette itself. Reloaded is a 12-pan palette that features a range of shades in matte, silk, shimmer, and glitter finishes that are, of course, all in the neutral tone family. The shades include "Bribe," an ivory matte; "Barely Baked," a soft gold metallic; "Boundaries," a warm terra cotta; "Blur," a light nude matte; "Angel Fire," a rose gold shimmer; "Retro," a bright matte peach; "Reputation," a dark rose gold shimmer; "Burn," a copper burgundy metallic; "End Game," a chocolate brown matte; "Dreamweaver," a cool brown shimmer; "Distilled," a bronze metallic; and "Bucked," a warm brown matte.
An even better addition to the palette? Urban Decay saw you hitting the pan on those everyday, go-to shades, so this palette has bigger pans for four of the most popular shades — "Bribe," "Barely Baked," "Boundaries," and "Blur" — so they will last longer.
If you're missing the OG NAKED palette, rest easy, as the arrival of the totally revamped, long-lasting NAKED Reloaded is on the way.