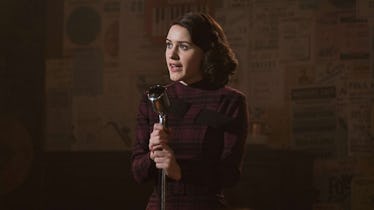 Here's Everything We Know About 'The Marvelous Mrs. Maisel' Season 3
Amazon Studios
Midge Maisel has swept back into our lives in a flurry of bright hats and bawdy comedy routines. If you've already zoomed through the second season of Amazon Prime's The Marvelous Mrs. Maisel, you're probably desperate for more. We won't judge you if you want to re-watch the season, but after a few binge-watching sessions, we'll all be thirsty for new content. When does The Marvelous Mrs. Maisel Season 3 air? We can probably expect the series to continue the same release schedule it has followed in the past.
UPDATE: Amazon Prime Video announced on Aug. 19, 2019, that Season 3 of the show will premiere on the service on Dec. 6, 2019.
Since its official launch on Amazon Prime on Dec. 5, Season 2 of the Emmy-winning comedy has won over both critics and fans with its continuation of Midge's quest to succeed as a stand-up comic in 1950s New York. Between deciphering the ambiguous state of her relationship with ex-husband Joel (Michael Zegen) and hiding her comedy aspirations from her parents, Midge (Rachel Brosnahan) frolicking through life is just as captivating as it was the first time around. We'll stay away from spoilers in case you're savoring Season 2 like the sweet treat it is, but even if you haven't finished the season yet, you're definitely dreading the moment you reach its end.
The show's third season has been confirmed since May 2018, but because the cast and crew are only mere humans, we can assume that they've been on a production break since wrapping work on Season 2. With a little more than a year between the releases of the first two seasons, fans can likely expect a similar gap between Seasons 2 and 3. As seen in an Instagram post from Brosnahan, the cast first reconvened for Season 2 in March, and it would make sense if The Marvelous Mrs. Maisel repeats that schedule this spring. As expected, IMDb lists the Season 3 premiere for 2019, so start placing bets on seeing the characters' new adventures in late November or early December next year.
So, what are the chances of the show returning beyond a third season? Amazon hasn't renewed The Marvelous Mrs. Maisel for Season 4 yet, but as the comedy has truly put the streaming service on the map, it's safe to say more seasons are happening. The mind behind the show also seems to have plenty of more plans for her characters. Upon the series premiere in 2017, creator Amy Sherman-Palladino told The Hollywood Reporter, "I think we know what our trajectory is for the first four to five seasons."
After the show raked up a stack of trophies at the 2018 Primetime Emmy Awards in September, fans can next see the Marvelous Mrs. Maisel cast in action at the Golden Globe Awards on Jan. 6. The show scored its second nod for Best Television Series - Musical or Comedy, while Brosnahan and co-star Alex Borstein both earned nominations for their comedic performances. Here's to whatever hat Sherman-Palladino will inevitably wear at the ceremony. We'll consider it a good luck charm for a Season 4 renewal ASAP.
Season 2 of The Marvelous Mrs. Maisel is currently streaming on Amazon Prime.